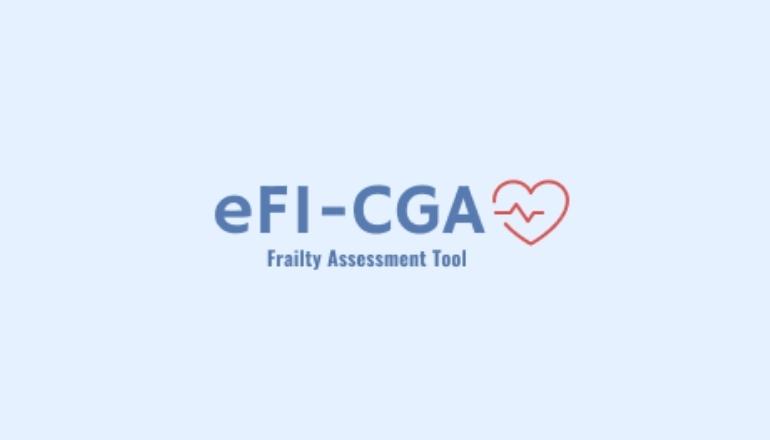 Learn about the electronic Frailty Index developed by a research team at Fraser Health with partners for the early detection and management of frailty in older adults living in the community.
Frailty is common in older adults and refers to a reduced ability to recover from illnesses, injuries and other stressors, which can cause long-term health effects and increases their risk of developing other medical conditions.
Teams in Geriatric Services complete Frailty Index Comprehensive Geriatric Assessments (FI-CGA) typically using paper forms that require manual calculations. The assessments gather information about the health and function of older patients.
To allow for early detection of frailty, a Fraser Health research team has created an electronic Frailty Index based on Comprehensive Geriatric Assessments (eFI-CGA) to support physicians in primary and community care settings to assess their patients without waiting to refer them to Geriatric Services. This tool allows physicians in settings outside geriatric services to assess their patients earlier and faster to manage their frailty by making informed primary care decisions for individuals at risk.
A research team at Fraser Health, led by Dr. Xiaowei Song (principal investigator, PI), Dr. Kenneth Rockwood (co-PI), Dr. Grace Park (co-PI) and other investigators with support from the Canadian Institutes of Health Research (CIHR), developed and is validating the eFI-CGA for early detection and management of frailty for older adults living in the community.
The eFI-CGA is now available in the Electronic Medical Record (EMR) and as stand-alone software to increase its accessibility to physicians. The EMR system allows the eFI-CGA to populate some fields based on information already in the patients' electronic records file.
In collaboration with the Community Action and Resources Empowering Seniors (CARES) team at Fraser Health and Building Research for Integrated Primary Healthcare in Nova Scotia (BRIC), physicians are supported with frailty education and adoption of the electronic format of the new measurement form into their electronic medical records.
Since the pandemic, the software was updated to support virtual assessments and now includes information on COVID-19 vaccines.
The team has also seen increased requests to use eFI-CGA software from other clinical and research groups worldwide.
To further increase accessibility, a web-based application is now available for the eFI-CGA. Users can log in to perform several tasks, such as new assessments, analyses or complete tutorials to understand the tool better. They can also search the database and use filters to see previous assessments.
"The electronic Frailty Index based on Comprehensive Geriatric Assessment tool aims to assist the efforts to make this assessment part of standard primary care," says Dr. Song. "For preventative care, early detection and management are important to enhance a patient's health and quality of life – and the preliminary results are very promising."
Watch Dr. Song's full presentation at the Five Days in May research showcase: