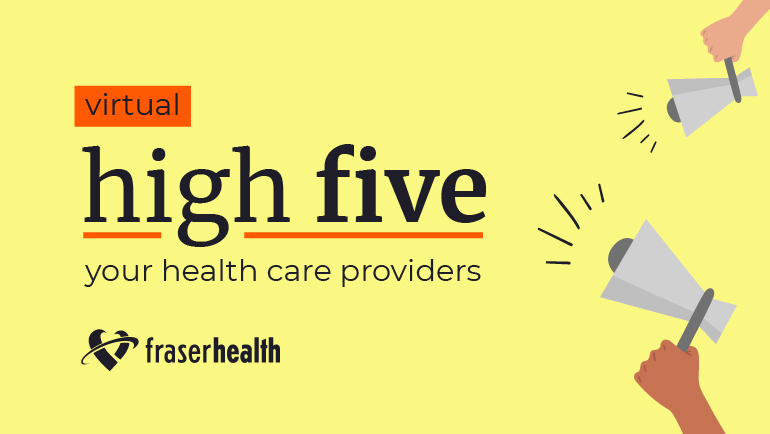 This week's high fives go to our amazing people at Peace Arch Hospital, Surrey Memorial Hospital and Langley Memorial Hospital.
Want to send a high five to your health care provider or Fraser Health team member? Leave a comment below or send us your story here.
---
For Peace Arch Hospital
I am writing to you to pass along my gratitude and my family's gratitude for the excellent care that the staff provided my mother. You have some amazing nurses/care aides and they were so helpful and pleasant to deal with. My mom is 93 and had a bad fall and broke her hip which required a partial hip replacement surgery. Mom had fantastic care provided by Kristen and Kyle; they were absolutely amazing with her and helped her during her post-operative recovery. Additionally, there was a student nurse from Douglas College, I believe, that helped a lot and she should be thanked for providing compassionate care. In general, the staff we encountered on the second floor were superb and we feel they needed to know how much we appreciate their treatment of our mother. She has now been moved over to Weatherby Pavilion for continued care and we met with the nurse practitioner, Jackie, and she is a wonderful lady. It makes us feel good knowing our mom is in good hands through her recovery. Thank you all very much.
---
I wanted to pass on a big thank you to everyone that took good care of me. Everyone from the front staff that booked me in, to the waiting zones, to the special single room they put me in. Dr. Grunau who looked after me was extremely caring, understanding, helpful, kind and took time with me. Thanks to all.
---
For Surrey Memorial Hospital
I came to Surrey Memorial Hospital Maternity unit in preterm labour with my twin baby girls. I will never in my life forget the incredible care I received from the nurses and obstetricians in the Family Birthing Unit. I was terrified and every one of them, physically and emotionally, held me up and got me and my husband through. Thank you from the bottom of our hearts for your care, compassion, kindness and love.
---
I went to the Emergency Department at Surrey Memorial Hospital. I had just accidentally cut my thumb while slicing a red pepper. I am on blood thinner so the bleeding wouldn't stop. The doctor used a glue for the cut. This morning he called to inquire how I was doing and if there had been any more bleeding. I was very impressed that he would follow up like that.
---
For Langley Memorial Hospital
I would like to give a big kudos and a heartfelt thanks to an Emergency Department nurse by the name of Chad. I suffer from hemiplegic migraines. Chad was my nurse for the second time I had to be treated for this. I can't describe what an amazing nurse Chad is. He was so very busy but always took the time to check on me and ease my anxiety. Thank you Chad, you are amazing.