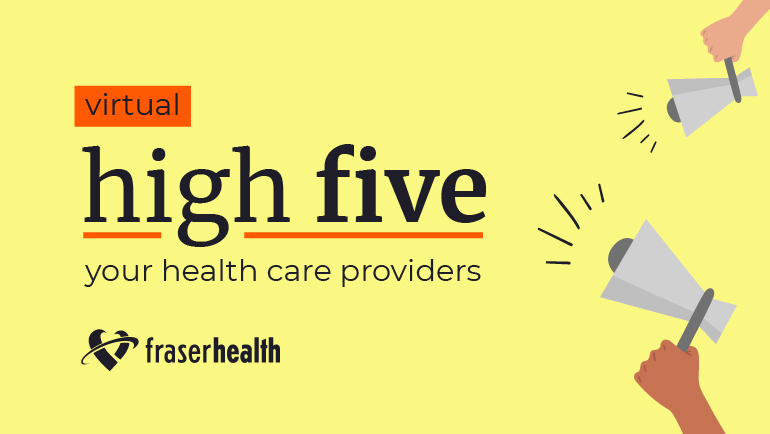 This week's high fives go to our amazing people at the Poirier COVID-19 Immunization Centre, Peace Arch Hospital, Abbotsford Regional Hospital, Ridge Meadows Hospital, Surrey Memorial Hospital and Langley Memorial Hospital.
Want to send a high five to your health care provider or Fraser Health team member? Leave a comment below or send us your story here.
---
For Poirier COVID-19 Immunization Centre
Thank you to all the staff at the vaccination site, especially a nurse named Daniella, who was so kind and patient with our daughter, who was extremely nervous. Daniella got her an ice-pack, told her a story about colour breathing and came to check on us afterwards. She was so calming and empathetic. Thank you so much.
---
For Peace Arch Hospital
I had an appointment. The experience was a great one, thanks to Kirsten, the radiology technician. She kept me informed about the length of each scan, and letting me know that a loud noise was soon to follow. I felt reassured every step of the way, which allowed me to keep calm and comfortable. I have had several of these procedures, but none handled so professionally as today.
---
For Abbotsford Regional Hospital
I would like to thank everyone that took care of me in Surgical Daycare. My entire health care team went above and beyond and I cannot be more grateful. Nurses Donna, Monique, Kelly, Sukhreet and David; Drs. Campbell and McKercher, front desk clerks, volunteer staff and anyone else that was involved in my care, were empathetic and provided the best quality of care. Thank you once again. You all are super heroes.
---
For Ridge Meadows Hospital
Wanted to give a shout out to Bianca at Ridge Meadows Hospital in Surgical Daycare. I was very anxious about a procedure. She was amazing, kind, patient and had a great sense of humour. Thank you for making me feel like a person. You stood out for your all-around genuineness and lovely disposition.
---
For Surrey Memorial Hospital
I was at Surrey Memorial Hospital. I fell and injured myself. The wait was not long in comparison to other times. The doctor was very thorough, had a great bedside manner and was very concerned with my injuries. I wish I remembered his name. He called me to check on me to see if I was healing and if I got my medication for the pain. Thank you.
---
For Langley Memorial Hospital
I came into the Emergency Department of Langley Memorial Hospital in great pain. I was greeted immediately and seen by a doctor within an hour. I was in surgery within five hours. Sara, the nurse that provided care for me in the Emergency Department, was very professional and great at her job. Super-efficient. Everyone from the doctors, surgeon and nurse went above and beyond. Thank you so much.