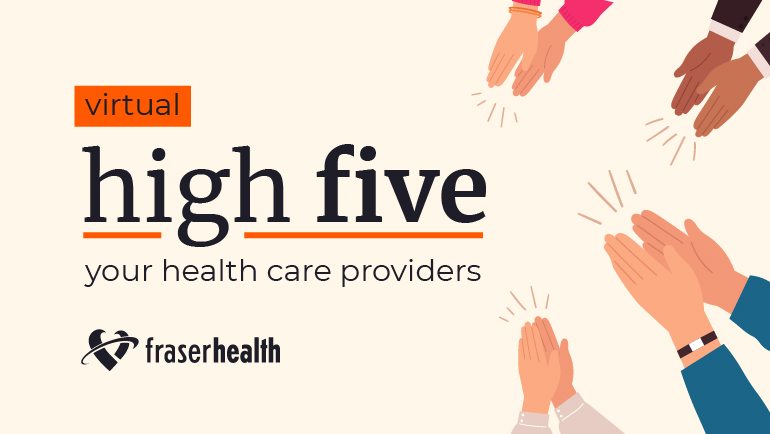 This week's high fives go to our amazing people at the Abbotsford Regional Hospital, Chilliwack General Hospital, Peace Arch Hospital, Langley Memorial Hospital, Burnaby Hospital and Eagle Ridge Hospital.
Want to send a high five to your health care provider or Fraser Health team member? Leave a comment below or send us your story here.
---
For Abbotsford Regional Hospital
I spent time in the Paediatric Inpatient unit. Nurses Barb and Jessica, and student nurse Rebekah were all so lovely and took great care of me.
---
For Chilliwack General Hospital
The staff were kind, warm, knowledgeable and professional. Thank you to the cleaning staff for all that you do behind the scenes in helping to make the hospital environment clean and safe.
---
For Peace Arch Hospital
I visited Peace Arch Hospital and was extremely impressed by how kind and caring the entire hospital staff, registered nurses and the physician were. From the initial COVID-19 screener at the entry of the Emergency Department doors to the registered nurses and doctor who treated me, all were incredibly positive and pleasant. I'm grateful and amazed by how lovely everyone was during such a challenging time.
---
For Langley Memorial Hospital
Victor was my dad's nurse on many occasions while my dad was in 3 South. Victor was very caring, compassionate, understanding and patient with my dad and with us as the family. I feel he really looked out for my dad.
---
For Burnaby Hospital
My father was a COVID-19 patient on the 5th floor. With Omicron raging, the staff were extremely busy, but several of the nurses extended themselves to enable his family (here in the U.S.) to FaceTime with him before he passed away. They even used their personal iPhones to make this happen. Their compassion for their patients as well as the patients' families was remarkable.
---
For Eagle Ridge Hospital
Thank you to Dr. MacKenzie, the nurse coordinator, nurses and all staff for the amazing care they gave to me. All of them were very compassionate, showed a high degree of respect and gave great care. Kindly pass on my regards to them.