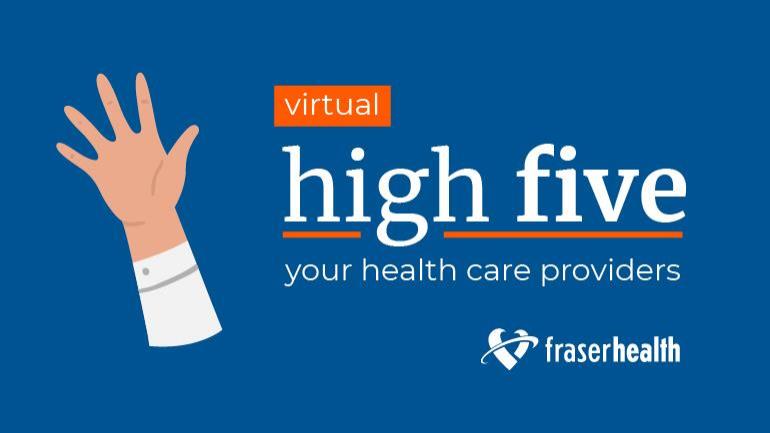 This week's high fives go to our amazing people at Chilliwack General Hospital, Eagle Ridge Hospital, Surrey Memorial Hospital and Langley Memorial Hospital.
Want to send a high five to your health care provider or Fraser Health team member? Leave a comment below or send us your story here.
---
For Chilliwack General Hospital
I went into the hospital via ambulance. The nurses and doctors in the Emergency Department were absolutely amazing. I wish I could remember everyone's names; the only name I can remember is the respiratory therapist, Craig. This was an extremely scary thing for me to go through and you made me feel more at ease. So to everyone that helped with my situation, thank you.
---
My family would like to express our deep gratitude for the compassion and care given to [my husband and our children's father]. He was in the Emergency Department and then the Intensive Care Unit he passed away. We would like all staff working in the Intensive Care Unit to know that their kindness and communication helped us say goodbye surrounding him with love and in peace. Thank you.
---
For Eagle Ridge Hospital
This is for the two doctors that helped me in the Emergency Department. I was admitted to Eagle Ridge Hospital with ascites and liver failure. Thank you to the lady who helped me get home and believed in me. I healed with the doctors' care.
---
We were in the emergency department with my one year old and, as a mom, mom guilt already overcomes any rational thinking when my baby is sick. There was a nurse who reassured us and checked on me a couple times to make sure I wasn't feeling terrible. Thank you so much. I wish I got your name or thanked you in person.
---
For Surrey Memorial Hospital
To the most hardworking nurses I know. They consistently take care of the patients with empathy and smiles. The entire team here is fabulous.
---
For Langley Memorial Hospital
I want to commend a nurse who was frequently assigned to the care of my mother during her stay on 3 South at Langley Memorial Hospital. The nurse's name is Bianca. She was caring and considerate towards my mother and was attentive to my mother's care, comfort and hygiene. She was also respectful in communicating with me.