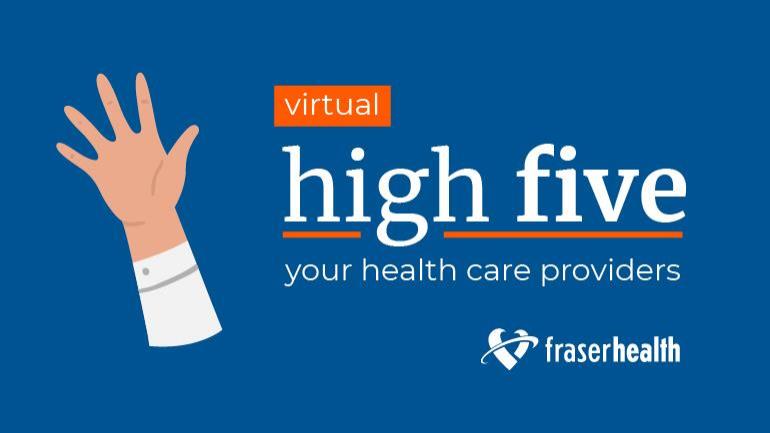 This week's high fives go to our amazing people at Royal Columbian Hospital, Eagle Ridge Hospital, Langley Memorial Hospital, Chilliwack COVID-19 Testing and Immunization Centre, and Abbotsford Regional Hospital.
Want to send a high five to your health care provider or Fraser Health team member? Leave a comment below or send us your story here.
---
For Royal Columbian Hospital
I would like to extend a huge thank you to the hospital for my son's care. He was admitted a few times to the Mental Health and Substance Use Wellness Center. Over time, a treatment was developed for his current situation, and he is recovering and back on track with his life. Again, thank you to all the doctors, nurses, support staff and follow up with Tri-City Medical. All of you have been amazing.

I attended Royal Columbian Hospital for a procedure. It was my first time, so I had little idea of what it all entailed. I was not fearful, but apprehensive. Two nurses on 2 North were very helpful and friendly, making me feel much more relaxed. One of the nurses was named Natalie. The staff in the procedure room were efficient and friendly, including Dr. Kline. Thank you.

A big thank you to registered nurse Karen, patient care coordinator on 6 South, for taking the time on a very busy day to patiently listen to my concerns and provide expert advice regarding my mother's living situation. Karen clearly explained options and how to navigate the long-term care system. She also called later to provide additional information and confirm next steps. Job well done. Thank you.
---
For Eagle Ridge Hospital
I had day surgery at Eagle Ridge Hospital. Everyone I had contact with was caring and kind. I felt as if they went out of their way to make sure I was comfortable in every way. They were very busy but I never felt rushed or ignored. Very impressive in these stressful times.
---
For Langley Memorial Hospital
This is for your whole team at Langley Memorial Hospital. I went in to the emergency department. The doctors and nurses on staff were very comforting and well trained. When it was discovered that I needed further surgery I was treated very well by the emergency department, pediatrics, post-operative care and the surgical staff. Thank you.
---
For Chilliwack COVID-19 Testing and Immunization Centre
We attended the (Chilliwack COVID-19 Testing and Immunization Centre) to get our 11-year-old daughter vaccinated. She was extremely anxious and scared to get the vaccine. The staff were very accommodating and understanding. Our nurse, Sonja, took us into a private room to give our daughter the vaccine. Sonja was so great dealing with her and her fears. We were so appreciative of Sonja's kindness and understanding. Thank you.
---
For Abbotsford Regional Hospital
I wanted to send my gratitude for the nursing staff at the Abbotsford Regional Hospital maternity ward. I have been singing their praises. I don't know where the hospital found all of these angel nurses to be in one unit, but they truly made our time special, even though we had to stay longer than expected. I want to send the biggest thank you for your support. Special thanks to Laura, who I will hold in my heart forever.