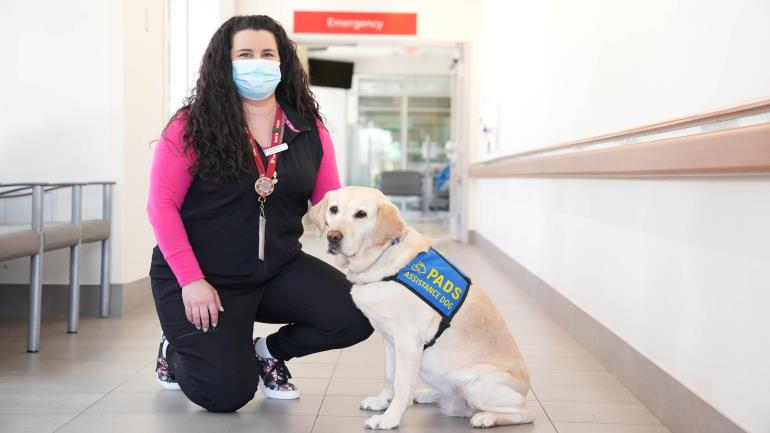 Accredited facility dog Roo is now supporting patients and families at two Fraser Health hospitals.
A new member of the social work team at Peace Arch Hospital supports victims of trauma and grieving families. She is all ears and ready to listen when people are going through difficult times. Social distancing is not her forte; sometimes she gets so close you can hear her heartbeat.
Roo is an accredited facility dog, raised and trained by Pacific Assistance Dogs Society (PADS) and paired with social worker Christine Simmons, who works in the emergency department at Surrey Memorial Hospital and more recently, Peace Arch Hospital.
"Roo is a gentle soul who supports people in distress, including those who've experienced trauma and are grieving," says Christine. "People melt into her and you can see their bodies relax in her presence. It's quite amazing."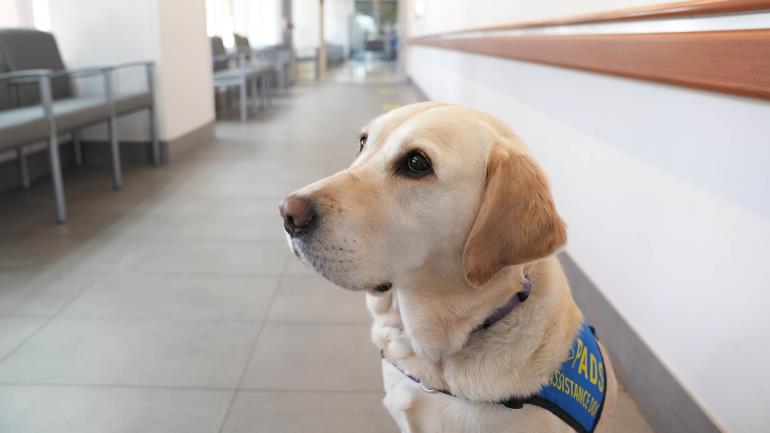 Being so amazing is a skill that Roo honed during her time with PADS. She starting training when she was eight weeks old. Her puppy raisers showed her the world, helped her with her skills and set her up for the advanced training phase where she learned the subtleties of picking up on cues. For example, if a youngster is crying, Roo might put her chin in their lap. (Roo is always with Christine and does not approach people on her own).
Another accredited facility dog, Kolton, was the first PADS dog placed in an acute care facility in B.C. Christine credits Martha Cloutier, executive director of Surrey Memorial Hospital, for supporting Kolton, and later, Roo's integration into the health care system. "We have seen how these wonderful dogs are making a difference in people's lives," says Martha. "They really are amazing."
Learn more about Roo's work: