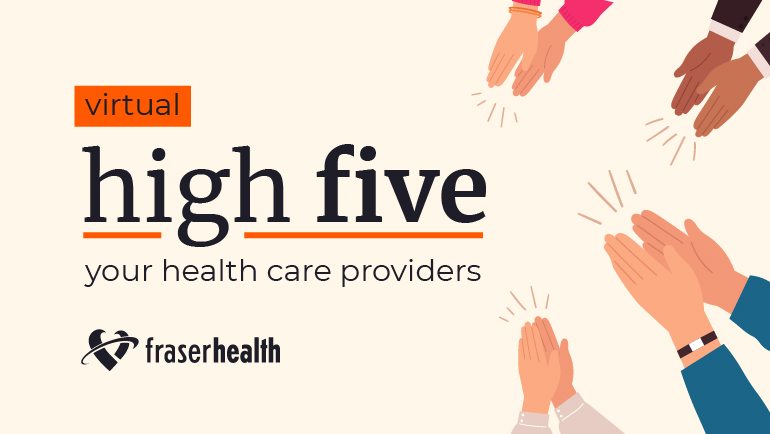 This week's high fives go to our amazing people at Burnaby, Ridge Meadows, Royal Columbian and Surrey Memorial hospitals.
Want to send a high five to your health care provider or Fraser Health team member? Leave a comment below or send us your story here.
---
For Ridge Meadows Hospital
I just wanted to express my gratitude for my emergency department doctor. I am not good at showing pain but did express that I was feeling a level nine pain. I am thankful that he took blood tests rather than send me home (even though by the time I was seen by him, my intense pain was gone). I'm thankful this saved me from having to experience a second gallbladder attack.
---
Michelle is a nurse on the third floor west. She has given my 90 year old mom exceptional compassionate care, going beyond the standard of care. I noticed that she pays attention to the small details and has thoughtful ideas on how to improve care, and does it all with a cheerful voice.
---
Thanks for your care and love. I'm a changed person after the visit.
---
For Royal Columbian Hospital
A huge thank you to nurse Alice in the labour and delivery ward for the wonderful work she does. We felt very assured under her care. Her kindness and compassion made our birthing experience incredibly positive.
---
For Burnaby Hospital
I spent three days in the Burnaby Hospital emergency department and I would like to do a shout out to your housekeepers. Not only are they friendly and very busy, they were never too busy to lend a hand or help out when asked. They made me so comfortable. However, Gail really went out of her way. Thank you for everything you did for me. Your kindness was truly appreciated.
---
For Surrey Memorial Hospital
I attended the Surrey Memorial Hospital emergency department after I had a fall and face-planted. I was seen quite quickly and given an electrocardiogram (ECG) and further blood tests. I was attended to by Dr. Tu who was very kind and attentive. He sent me for imaging. I was very impressed with his handling of my case. He is an excellent doctor whom we are fortunate to have.