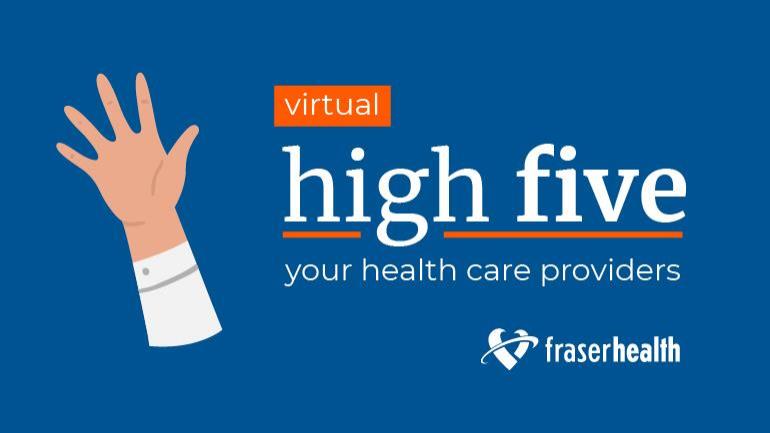 This week's high fives go to our amazing people at Burnaby Hospital, the Coquitlam COVID-19 Testing and Immunization Centre, Royal Columbian Hospital and Surrey Memorial Hospital.
Want to send a high five to your health care provider or Fraser Health team member? Leave a comment below or send your thanks using our online submission form. Read more kudos at fraserhealth.ca/highfive.
---
For Burnaby Hospital
I had a kidney stone removed. The entire surgical team was amazing. They were all very personable and explained things well. When I was moved to recovery, unfortunately I fainted, but was well taken care of. I especially want to acknowledge Nicole in recovery. She managed my care attentively. She was so kind and caring. The hospital is fortunate to have her. Thank you, Nicole.
---
For Coquitlam COVID-19 Testing and Immunization Centre
This is a wonderful service. I am currently not physically able enough to go through a regular clinic or even a pharmacy, so the drive-through location was a godsend. All the staff were very proficient and friendly. I would give this clinic a 10 out of 10 rating. It would be wonderful if this location could do flu shots in the fall as well. I am a very grateful resident of Coquitlam.
---
For Royal Columbian Hospital
Brie from labour and delivery was wonderful the whole time I was in her care. I overheard her quietly brief the health care practitioners that entered the room about my post-traumatic stress disorder, noted on my chart, and my need for extra care. I was too focused on my labour to do it myself, so it was great to have her look out for me and it made my experience much better. I wish I could write more because she is just the best.
---
For Surrey Memorial Hospital
My daughter was in Acute 2 care and then on the fifth floor of the Orange Zone. She received excellent professional care and the staff's compassion and consideration were evident. Thank you all so very much: Dr. Manji, Dr. Grewal, nurse Jason in Acute 2; and Nurses Cora and Sam on the fifth floor, Orange Zone. The fire department and ambulance attendants were fantastic as well.
---
I wanted to thank registered nurse Chelan at Surrey Memorial Hospital for her kindness, empathy and outstanding patient care. She really went above and beyond to make me comfortable. I can't say how grateful I am. The triage nurse; Care, Assessment and Treatment Zone staff; and Emergency Department physician were all really great as well. I consider myself lucky to have such great care in my community.