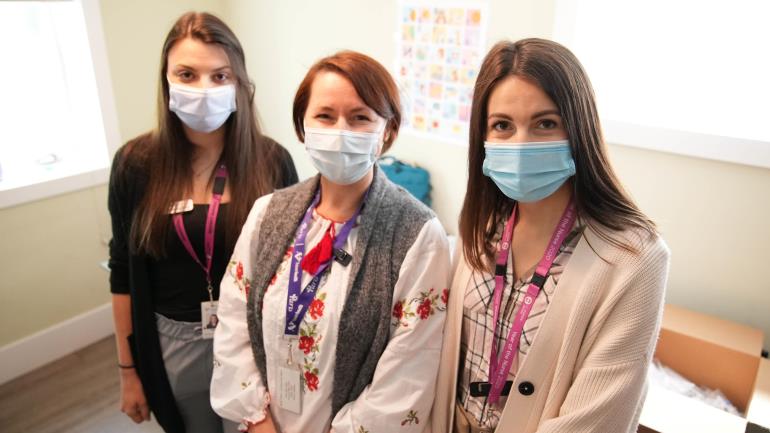 From left to right: Public Health Nurses: Talia Therniak, Natalia Beletsky, Valeriya Filkov. 
When the call went out for Ukrainian- or Russian-speaking public health nurses to help out at an outreach event for displaced Ukrainians, Valeriya Filkov didn't hesitate to sign up.
"I came to B.C. from Ukraine with my mother 15 years ago and I know how difficult it was for her to find the resources she needed to start a new life," says Valeriya. "This hits very close to home and I want to help."
On May 19, 2022, Valeriya and other Fraser Health employees joined Service Canada, Service BC and ICBC at Holy Eucharist Ukrainian Catholic Cathedral at the outreach event organized to help Ukrainians access documentation to live and work in B.C. Fraser Health staff provided vaccinations, rapid test kits and connections to health services in the region.
Anna Hzyshko, her mother-in-law Olah Hzyshko and their cat Simba arrived in B.C. on May 18, 2022.
"We are grateful for the government of Canada for giving us the opportunity to be here," says Anna. Speaking through an interpreter, she talks about the importance of having one place to access services, especially for people like her who are learning English.
"To be here is a hardship for us because we can't help our family," she says.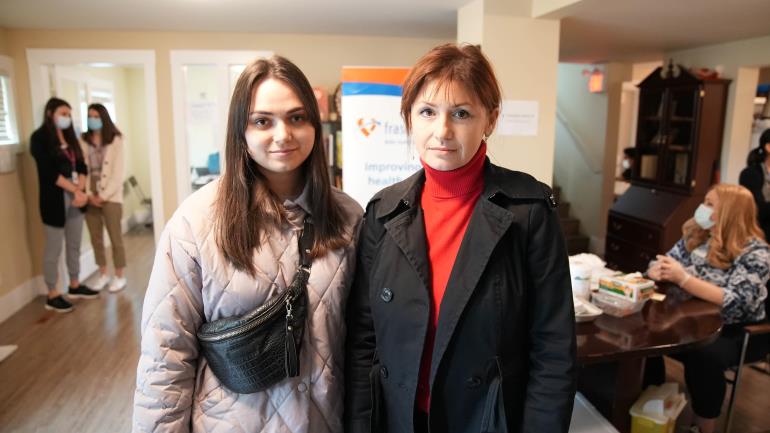 (Photo): Anna Hzyshko, Olah Hzyshko
Anna still receives air raid alerts on her cell phone, a constant reminder of the danger faced by her husband, other family and friends back home in Ukraine.
"Some people fleeing the war zone in Ukraine may experience trauma and we want to let them know there are supports in place to help them through their ordeal," says Niegal Kirby, a social worker with Delta Mental Health and Substance Use, whose team assisted at the event in New Westminster.
For the most part, displaced Ukrainians arriving in the Fraser Health region will connect to care through Urgent and Primary Care Centres (UPCCs) and Fraser Health Virtual Care.
"UPCCs provide team-based care and already have established relationships in communities," says Deanna Fontaine, Manger of Clinical Operations for Urgent and Primary Care Centres.
"They can help people navigate the system and, in conjunction with primary care networks, have a "call-a-friend-mentality" where if you don't know who to call, there are always people who can help you."
After Russia invaded Ukraine, the Government of Canada introduced a program to help Ukrainians to work and stay in Canada. Even so, navigating a new life in a new country can be daunting. Newcomers like Anna are grateful for the ability to access services at one location.
When asked what her hope is for the future, Anna replied: "My one wish is that this war will end soon."