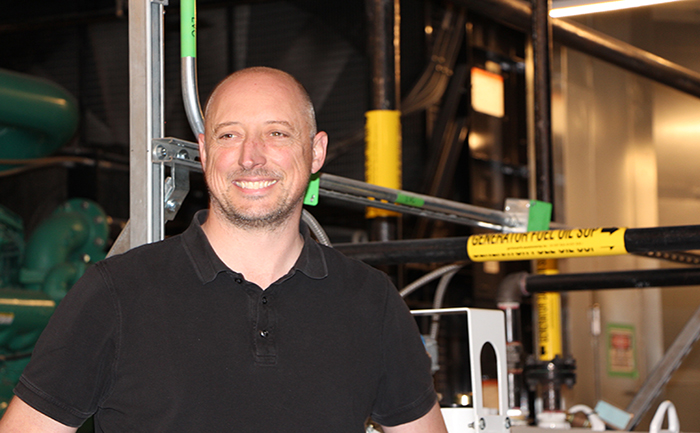 Martin Wright and his Facilities Maintenance and Operations (FMO) team help keep our acute and community sites running smoothly and make sure that new construction projects meet the needs of staff, patients and families today and in years to come.
Martin Wright, director, Facilities, Maintenance and Operations, believes in the importance of purpose-built, sustainable health care spaces.
"Our team works to ensure that facilities will last us in the long term," he says. "Which means being resilient to the weather, earthquakes and whatever else the world might throw at us."
Martin joined Fraser Health in 2015, as a senior project manager for infrastructure and capital projects. One of the first projects he worked on was the first phase of the Royal Columbian Hospital redevelopment project and he guided the hospital's new energy centre and 75-bed Mental Health and Substance Use Wellness Centre to completion.
"In my current role, I'm responsible for ensuring good stewardship of all of our facilities, and making sure everything for our capital projects is planned, not just to suit today's needs, but also for the future," says Martin.
There is currently $5 billion in capital work underway across Fraser Health, which includes three major hospital projects: the new Surrey hospital and BC Cancer Centre as well as redevelopments at both Burnaby Hospital and Royal Columbian Hospital. Martin and the FMO team, which includes Asset, Risk, Quality and Technical Services, use their expertise to help determine the technical requirements for all new builds and renovations at these sites.
This includes taking into account important and timely factors, like climate and population data and lessons learned from previous projects. For example, last year's floods in the Fraser Valley underscored the importance of ensuring that all critical infrastructure, such as emergency generators, need to be above the floodplain and this was included in the specifications for the new Surrey hospital and BC Cancer Centre.
As part of Fraser Health's commitment to a healthy planet, all three of the major capital projects will also be gold-certified under the LEED - leadership in energy and environmental design - process.
"The focus now is on efficiency and the use of sustainable, local materials as much as possible in design and construction," says Martin. "We're reducing our carbon footprint and working to lower the amount of gas and electricity we use."
The buildings will be up-to-date on seismic codes and resilient to weather and climate change. Additionally, the facilities will have more advanced heating, ventilation and air conditioning systems that will benefit both staff and patients.
Martin and his team help enforce quality standards with contractors to ensure that our facilities both look good and are highly functional for staff and patients.
"You can paint anything to look pretty, but we want to make sure what's underneath that paint or carpet is going to last," says Martin. "For example, we don't want to have to replace flooring every five to 10 years, because that means you have to shut down the department, displace the staff and patients and it impacts operations. Everything we're looking to do is to keep our operational uptime maximized."
He likes to sum it up simply.
"It's an exciting time for Fraser Health. It's like coming into the future," says Martin.
Learn more about the project on our website.
For career information, visit our careers page.