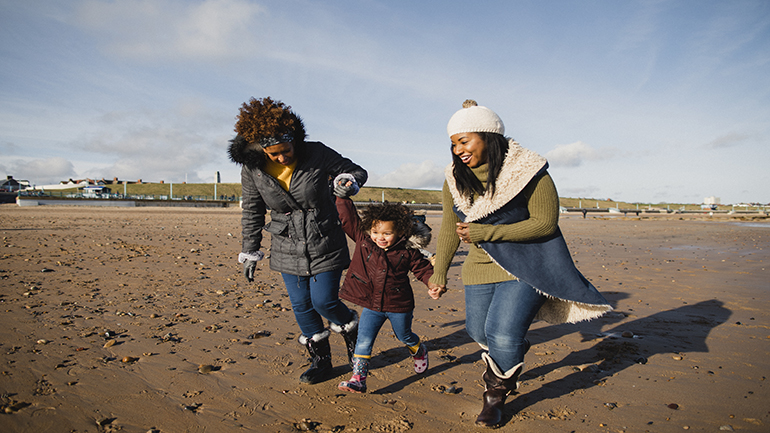 Make the most of the shorter days and colder temperatures by connecting with family and friends.

Check out these fun ways of staying active with your family and friends this winter, whether inside or out in the great outdoors:
Grab your toques and gloves and head outside to play. Outdoor play in all seasons supports healthy child development and promotes stronger connections with family and friends. Need some new ideas? Check out the Around the World Outdoor Games Booklet by Live 5-2-1-0.
Spend a day at your local community recreation centre. Try ice skating, go swimming, get in a quick workout at the gym, take part in a family game of basketball, sign up for a chair-yoga class, or bring your little ones to a play group.
Get active with art. You can exercise and experience the beauty of art at the same time with a stroll through an art gallery: the Burnaby Art Gallery is entrance by donation, the Surrey Art Gallery is free and the Vancouver Art Gallery offers entrance by donation Tuesday evenings.
Head for the hills. Take your family to a local hill or mountain and go tobogganing, snowshoeing or skiing. Not interested in the slopes? Have fun building a snowman, a fort or a snow house.
Be an outdoor explorer. Take a brisk walk and explore a new neighbourhood together you're your family or friends. Discover shops, restaurants and playgrounds. Try wandering Port Moody, Fort Langley, South Surrey, or Harrison Hot Springs for some new scenery. Go on a winter scavenger hunt to find craft-making items such as holly leaves, acorns, leaves and pine cones. You could even score some bonus points with mother nature by bringing along a pair of tongs, gloves and a trash bag and help clean up a park or street along your route.
Get creative about getting off screens. Even if you have to stay indoors, you can still stay active. Do yoga with your kids in the living room, hold a dance party, build an obstacle course with pillows, play a game of hide and seek, or fly paper planes and chase them. Read more ideas for 100 screen-free activities you can do with your family.
Take advantage of the rain and go puddle jumping, or put on some rain boots, grab an umbrella, and get a little muddy on your local trails. Try the Ladner Marsh trails, Reifel Migratory Bird Sanctuary, or the Great Blue Heron Nature Reserve. Combine your puddle jumping with bird watching or winter beachcombing.
Take active mini-breaks during a busy workday. Go for a quick walk or take the stairs instead of the elevator whenever you can.
Make physical activity part of your everyday chores. Raking leaves, shoveling snow, vacuuming, and walking the dog are all great ways to stay active during the day.
For more health advice about staying healthy all winter long, read our Healthy Winter Guide.