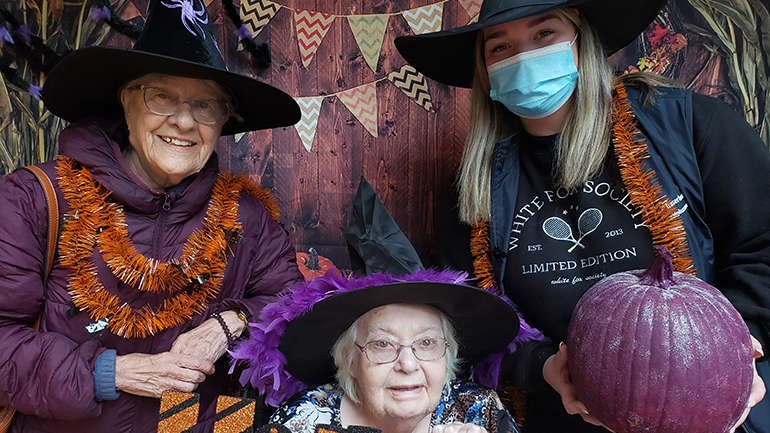 Costume contests, pumpkin decorating, music and connection were all ways in which Baillie House long-term care residents, staff and volunteers took part in Halloween-related festivities.
(Photo) L-R: Jean (Ruby) Easton, resident, Volda Dunn, resident, Allison Williams, student volunteer.
The health care team at Baillie House – a Fraser Health owned and operated long-term care home in Maple Ridge – works every day to transform ordinary days into extraordinary memories for its residents.
Jade Tomlinson, recreational therapist supervisor, has worked at Baillie House for 25 years. During her tenure with the site, she has gotten to know many residents, and she credits these relationships for her continued passion for her work.
"Myself and the recreation department plan therapeutic programs to increase residents' physical, cognitive, social, spiritual and emotional well-being," she says. "Our goal is that all activities bring them joy."
The site also holds regular resident council meetings to find out what residents would like to see in terms of programming.
"This year, we had many requests for Halloween festivities," she says. "Our whole month was focused on fall and Halloween-themed activities – like arts and crafts, baking and trivia games."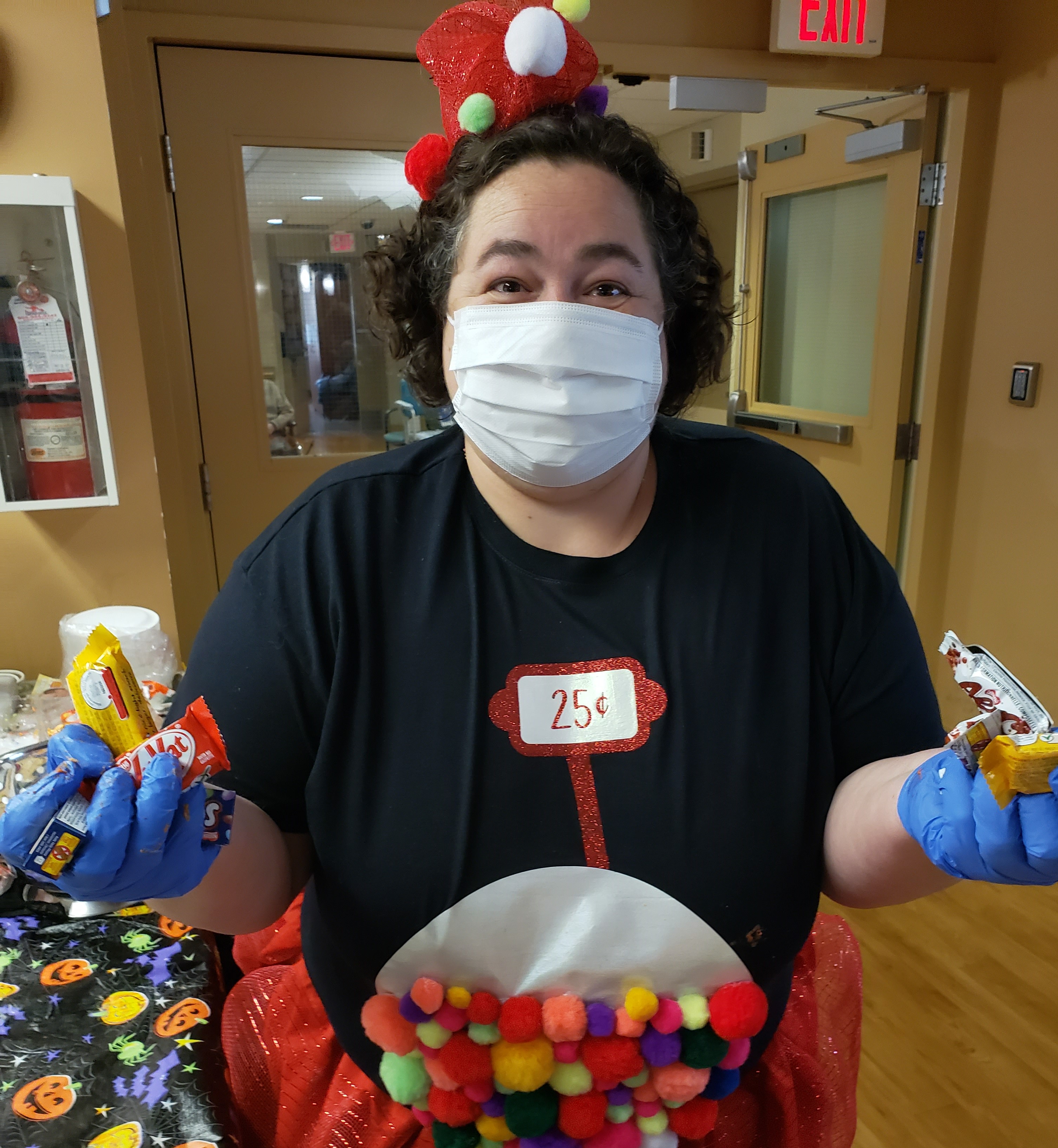 (Photo) Jennifer Danyleko, activity worker, wearing a homemade gumball machine costume.
A big focus for Jade and her team is to ensure that all activities are equitable for, and accessible to all residents – regardless of their level of ability.
"We adapted the traditional pumpkin carving activities to be more inclusive by offering different options, such as painting the pumpkins, decorating them with props or using stickers," she says. "We then had a friendly competition between floors for who had the 'best dressed' pumpkin."
Residents and staff also dressed up in costume for a site-wide party on Halloween.
"We all competed for 'best dressed' costume overall, and we also awarded a 'best dressed resident and staff duo'," Jade laughs.
Party goers enjoyed homemade mulled apple juice, Halloween candy and other spooky-themed treats.
"We also danced to Halloween music and enjoyed taking candid photos in our Halloween party photo booth."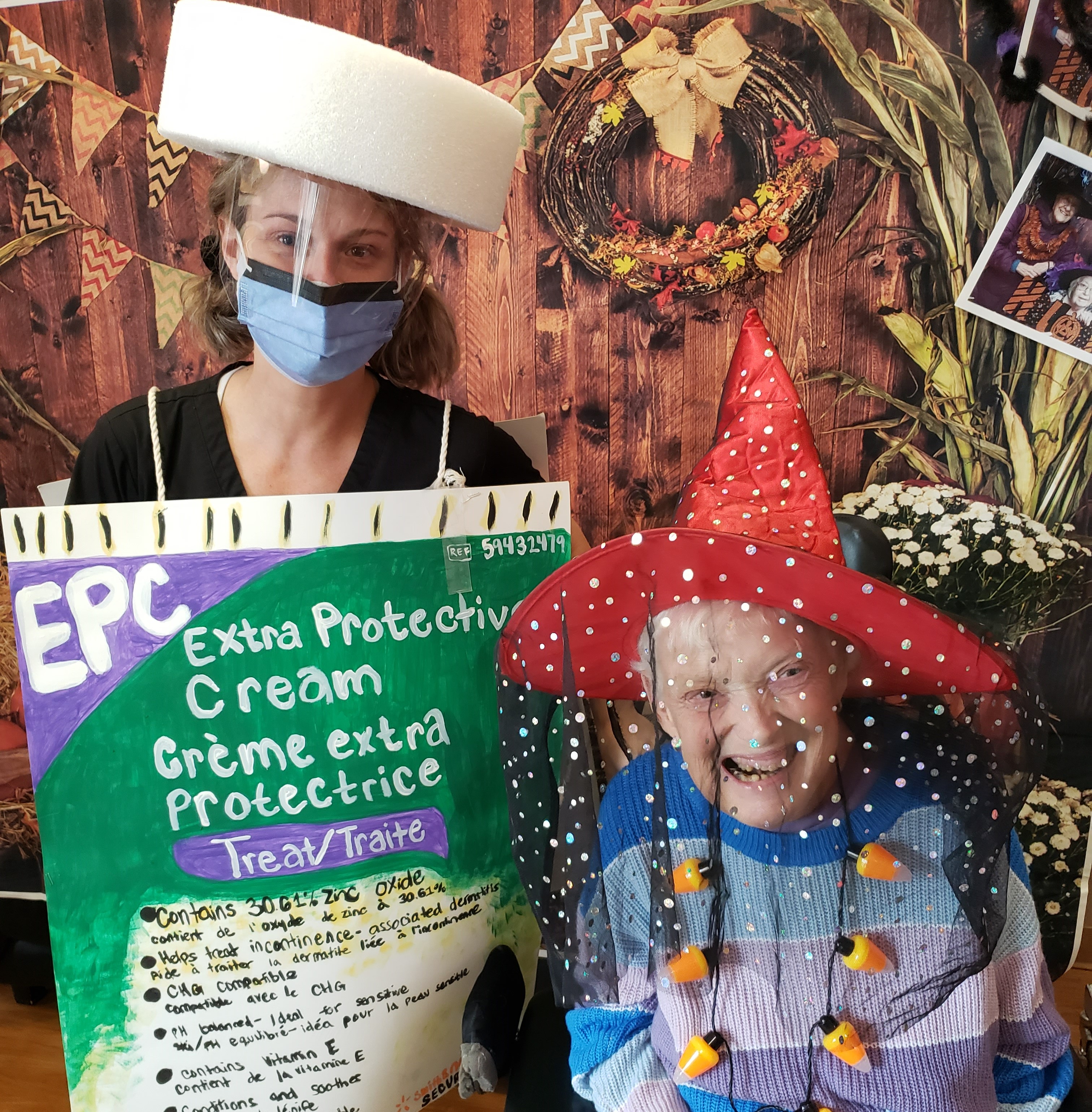 (Photo) Stephanie Nunley, health care aide, and Cathy, Baillie House resident.
A group of local youths – the VolunTEENS – who visit with residents daily, as well as volunteers from the site's Code K9 program who bring in their dogs to provide comfort, joy and companionship, were in on the festivities and celebrated with them in costume too.
"In years past, we have invited a nearby preschool to come in and 'trick or treat' at each residents' door," says Jade. "COVID-19 has impacted our intergenerational programming, so it was wonderful to have the VolunTEENS attend. The residents loved seeing them dressed up."
For Jade, these events are the building blocks of community that Baillie House uses to make their house a home for all of their residents.
"These types of activities bring the Baillie House community together and give everyone something to plan and look forward to. The residents get to relive memories of their youth and participate with younger generations. They are social and fun because they are inclusive of everyone."