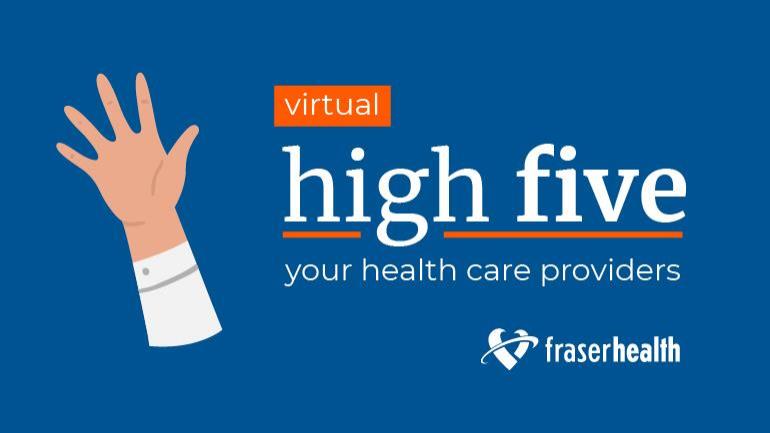 This week's high fives go to our amazing people at Abbotsford Home Health, Abbotsford Regional Hospital, Burnaby Hospital, Eagle Ridge Hospital, Langley Memorial Hospital, Ridge Meadows Hospital, Royal Columbian Hospital and Surrey Memorial Hospital.
Want to send a high five to your health care provider or Fraser Health team member? Leave a comment below or send your thanks using our online submission form. Read more kudos at fraserhealth.ca/highfive.
---
For Abbotsford Home Health
The Home Health care service that I have received has been amazing. After a couple of weeks, I was assigned a regular worker named Harpreet. She is wonderful and has helped me with moving past the depression I have been experiencing for over a year and a half. Thank you.
---
For Abbotsford Regional Hospital
The staff in the Emergency Room were amazing at taking care of my sick daughter. Nurses Megan and Sheena in the Emergency Room were exceptionally patient and kind with my frightened daughter. Although they were busy, they took great care of all their patients.
---
For Burnaby Hospital
Dr. Cassidy in the Emergency Room was so kind, knowledgeable and reassuring. I was so grateful to be taken care of by her. Thank you.
---
I want to thank Dr. Yu at the Pain Clinic for his timeliness and professionalism. He answered all questions regarding my treatment plan and administered my treatment in a caring manner. Exceptional care from Dr. Yu and his assistant, for providing me with some much needed chronic pain relief. The Pain Clinic is an invaluable community resource.
---
My son visited the Emergency Room at Burnaby Hospital and I was so impressed by the level of attention, patience and care he received. I want to say thank you to everyone who took care of him. You are appreciated.
---
I had to visit the Emergency Room at Burnaby Hospital. Although I was really scared, the nurse listened to all my concerns. She was very kind and made me feel safe. Thank you.
---
I underwent surgery at Burnaby Hospital. Nurse Devon, who prepped me for surgery was wonderful. She was kind, caring and really supported me even though I was fearful. I want to thank her. She made my whole experience better. Thank you so much, you are amazing.
---
For Eagle Ridge Hospital
I went to Eagle Ridge with a sprained ankle. The Emergency Room nurses, the staff in triage, the porters, the doctor and all staff treated me with the uttermost respect and care. I received an x-ray and was able to see a doctor in under an hour. I was very impressed – thank you.
---
For Langley Memorial Hospital
My family wants to give our gratitude to all the medical professionals who helped my daughter during her stay in the pediatric ward. We would love to give our compliments and recognition for the excellent work and professionalism of Nurse Trina. Trina is the most caring nurse. Thank you.
---
For Ridge Meadows Hospital
Nurse Stephanie, who cared for our son in the pediatric ward was amazing. She has great bedside manner with kids (and parents). Her approach with our toddler kept him entertained in what could have been a scary situation. Thank you so much for the excellent care.
---
For Royal Columbian Hospital
I'd like to express my gratitude to the supervisor in medical imaging and the radiologist who performed my biopsy. Thank you for going above and beyond to assist me and my needs. Your compassion and care are outstanding.
---
For Surrey Memorial Hospital
I wanted to take the time to compliment the staff for the care they have provided my grandmother. They were so compassionate and as a result, we have watched her mental status dramatically improve under their care. Many times I've requested something only to find out the nurses had already noticed and requested it themselves. Thank you so much for your excellent care.