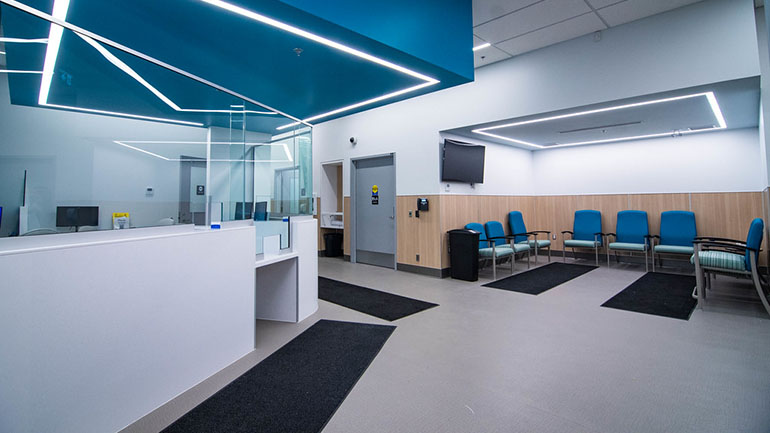 People living in the Tri-Cities will benefit from improved access to team-based, comprehensive primary health care with the official opening of an urgent and primary care centre (UPCC) at its permanent location at 3105 Murray St. in Port Moody on Nov. 7, 2022.
"Ensuring that quality, timely health care is readily accessible for people in B.C. is an important priority for our government," said Adrian Dix, Minister of Health. "The new urgent and primary-care centre in Port Moody will help meet the health-care needs of the rapidly growing and aging population, and address the gap in primary-care availability for those without a family doctor."
The centre will serve two purposes. The first is to provide care for people with non-life-threatening conditions who need to see a health-care provider within 12 to 24 hours, but do not require an emergency department, such as people with minor cuts or burns, headaches and sprains, as well as those experiencing mental-health and substance-use challenges. It will be open 9 a.m. to 8 p.m., seven days a week, for urgent care.
The second purpose is to help attach patients to a regular full-service primary care provider. In collaboration with the Fraser Northwest Division of Family Practice, it will help attach patients to regular primary-care providers in the community for their long-term care while continuing to provide ongoing care for unattached patients. Full-service care hours will be 9 a.m. to 4 p.m., Monday to Friday.
"This is exciting news for the communities in the Tri-Cities," said Rick Glumac, MLA for Port Moody-Coquitlam. "The new Urgent and Primary Care Centre is a meaningful step toward meeting the health-care needs of people who may not have a regular family doctor and improving access to medical care for all people in the community."
The new permanent location will be staffed by a team of 25.5 full-time equivalent (FTE) health-care workers, including the equivalent of 5.1 FTE family physicians, 5.6 FTE nurse practitioners, 5.1 FTE registered nurses, 9.7 FTE allied health professionals (social workers, dietitians, physiotherapists and clinical counsellors) and support staff.
A temporary location previously opened at Eagle Ridge Hospital in February 2021, providing limited urgent-care services seven days a week from 1 p.m. to 8 p.m. The temporary site had been staffed by 6.9 FTE staff; a small site-based team of 2.8 FTE family physicians and 4.1 FTE registered nurses, with support from medical office assistants. To date, the temporary location accommodated 20,507 patient visits and attached 838 patients to a regular primary-care provider.
The Port Moody Urgent and Primary Care Centre is the 21st UPCC announced under the government's primary-care strategy. It is aligned and connected to the Fraser Northwest Primary Care Network, which includes the Fraser Northwest Division of Family Practice, Indigenous Partners in the Tri-Cities on the territory of the Kʷikʷəƛ̓əm (Kwikwetlem), Qiqéyt (Key-Kayt) and Coast Salish Nations.
The UPCC in the Tri-Cities is the seventh centre in the Fraser Health region, including two in Surrey, two in Burnaby, and one each in Ridge Meadows (Maple Ridge and Pitt Meadows) and Abbotsford.
Learn More:
Two backgrounders follow.
Backgrounders
What people are saying about the Port Moody UPCC
Sheila Malcolmson, Minister of Mental Health and Addictions –
"When people make the brave decision to reach out for help, we want them to get the services they want. This new urgent and primary care centre will help more people in the Tri-Cities access the mental-health and substance-use supports they need and deserve."
John Peters, councillor, kʷikʷəƛ̓əm (Kwikwetlem) First Nation –
"kʷikʷəƛ̓əm (Kwikwetlem) First Nation will benefit from this new primary care centre opening in Port Moody that will provide access to a variety of needed health-care services in one accessible location. We congratulate the Government of British Columbia for recognizing the importance of providing a one-stop location to help improve health-care services to all the residents of the Tri-Cities, including members and Elders of kʷikʷəƛ̓əm First Nation who live in the Tri-Cities."
Dr. Victoria Lee, president and CEO, Fraser Health Authority –
"The expanded Port Moody Urgent and Primary Care Centre is an example of an effective and sustainable primary-care service that we require. With dedicated teams providing co-ordinated care in a trusting and safe setting, people in the Tri-Cities communities will have improved access to urgent care as well as connection to long-term-care providers. My gratitude to the Fraser Health teams, the Ministry of Health and the Fraser Northwest Division of Family Practice for working together with the Tri-Cities residents to improve the primary-care services, as well as the overall health of the communities."
Dr. Nimeera Kassam, physician, medical director, Port Moody UPCC –
"Our UPCC will hopefully fill a special niche in the Port Moody area, providing timely urgent and longitudinal care – both of which are much needed in this ever-growing community. Our after-hours and weekend care will also hopefully help to decrease the burden on the ER, as patients will be able to access timely, non-emergent health needs. Team-based care will allow us to provide intentional, comprehensive, patient-centred care where the focus is to address the holistic needs of the person – body, mind, heart and spirit. We look forward to continuing to grow our partnerships with community primary-care providers, hospitals, mental-health and substance-use and others, in the hopes of fostering hope, health and healing."
Selina Robinson, MLA for Coquitlam-Maillardville –
"I have heard from many people in my constituency about the need for more access to medical care when they need it. I'm very happy that the permanent location is officially opening as it will expand capacity and help address this need."
Fin Donnelly, MLA for Coquitlam- Burke Mountain –
"This is big news for people in the TriCities, as they will have greater access to health-care services in this new centre. I thank government for taking action."
Mike Farnworth, MLA for Port Coquitlam –
"The new location of the Port Moody urgent and primary-care centre will go a long way to help people in the Tri-Cities communities access health care, both urgent and lifelong. It is really great to see a robust complement of clinical staff who will provide high-quality, team-based care to patients when they need it."
Dr. Paras Mehta, co-chair and physician lead, Fraser Northwest Primary Care Network –
"The physicians of Fraser Northwest are committed to the need in our community where many have been without access to primary care. Port Moody, in particular, is lacking in access due to a variety of obstacles that make it challenging for new providers to set up practice. We look forward to the Urgent and Primary Care Centre in Port Moody creating space for primary-care providers to care for people in Port Moody, and working together to support longitudinal primary care throughout the communities of Fraser Northwest."
Michael Sandler, CEO, Nurses and Nurse Practitioners of BC –
"Nurses and nurse practitioners of B.C. are pleased to see that the knowledge, skills and expertise of the entire health-care team will be utilized to improve access to health care for all British Columbians through urgent and primary-care clinics. We believe that this approach will be pivotal in ensuring B.C. families can access health-care services, and we are excited to see the opening of another urgent and primary care clinic in B.C."
Port Moody Urgent and Primary Care Centre
The Port Moody UPCC is opening Nov. 7, 2022, at its permanent location at 3105 Murray St. in Port Moody.
It will feature improved access to care through extended weekend and morning hours.
Once fully operational, the centre will be open seven days a week, 365 days a year, including holidays.
Services available will include:

new symptom diagnosis;
chronic-disease management, including diabetes, asthma and heart disease;
collaborative provision of and/or arrangement with another provider for prenatal/postpartum care;
contraception advice and treatment options;
mental-health assessment/treatment/support;
substance-use and addiction treatment/support;
prescription refills;
screening (e.g., sexually transmitted infections, cervical cancer/pap smear);
treatments/procedures (e.g., intrauterine device [IUD] insertion, ear wax removal);
referrals to medical specialists and social services and form completion;
social determinants of health assessments and prescriptions;
support with systems navigation (health-care and social systems) with a community health worker;
support with social determinants of health (finance, housing, education, etc.) with a community health worker;
outreach to local community partners; and
harm-reduction supplies.

Patients can self-refer for their urgent-care needs or be referred by community-service providers, other health-care professionals and agencies.
People can walk in for urgent care services. During busy periods, appointments will be prioritized based on urgency.
The UPCC will have an interpreter on wheels consisting of an Interpreter App on iPad with amplifier. The app supports many languages with a live interpreter on voice or video. If needed, an in-person interpreter can be requested as well.
Patients requiring laboratory testing beyond the simple specimen collection will be provided with requisitions for lab tests to be completed at the nearby laboratories.
Total capital costs for the UPCC are estimated to be $3.9 million.
When fully operational, the annual operating cost will be approximately $5 million.
The UPCC will be approximately 600 square metres (6,500 square feet) and will include reception, consultation room, intake/assessment room and seven exam rooms, along with additional areas to aid with patient flow and treatment.
UPCCs are part of a comprehensive provincial strategy to transform B.C.'s health system by bringing together and co-ordinating teams of health-care providers, services and programs to make it easier for people to access care, receive followup care and connect to other services they may need.
Patients should visit a UPCC if they have a concern that is not an emergency, but requires care within 24 hours. Some examples of this include:

fever or flu-like symptoms;
minor cuts or burns;
headaches or earaches;
nosebleeds;
sprains and strains;
nausea or vomiting; and
urinary problems.
Media Contacts
Ministry of Health
Communications
250 952-1887 (media line)
Fraser Health Media Line
media@fraserhealth.ca
604 613-0794