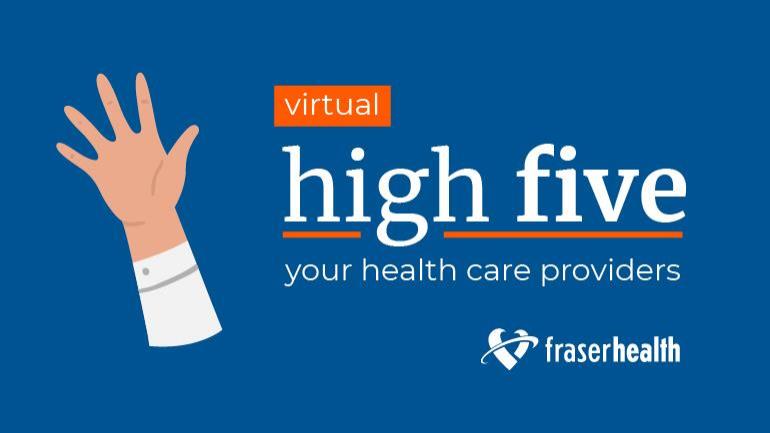 This week's high fives go to our amazing people at Abbotsford Regional Hospital, Burnaby Hospital, Delta Hospital, Langley Memorial Hospital, Royal Columbian Hospital, Surrey Home Health and Surrey Memorial Hospital.
Want to send a high five to your health care provider or Fraser Health team member? Leave a comment below or send your thanks using our online submission form. Read more kudos at fraserhealth.ca/highfive.
---
For Abbotsford Regional Hospital
I just wanted to say a big thank you to Dr. Melnychuk and the Emergency Department's pediatrics nursing staff working. My son had a puncture wound on his foot from stepping on a nail and needed a rock removed from it. Dr. Melnychuk and the nurses took incredible care of him and were able to remove the rock with minimal discomfort and amazing care! Thank you so much.
---
We brought my 90 year old mother into the Emergency Department for seizures. Our experience was positive but I would like to point out one of our nurses, Joyce, was exceptional as well as Dr. Chiu. Thank you to both of them for being such compassionate individuals.
---
For Burnaby Hospital
I would like to thank all the nurses who go above and beyond to make sure patients are comfortable. I had a comfortable stay thanks to your hard work and dedication.
---
For Delta Hospital
Big shout out to Tracy the mammogram tech at Delta Hospital. I had to see her twice in less than two weeks and she was truly so amazing. She explained everything so well and was just so pleasant and put me immediately at ease. I felt she truly celebrated with me when I received good news. I cannot say enough good words about her. Thank you, Tracy.
---
Langley Memorial Hospital
Thank you for taking care of our family and for making a stressful and scary experience better.
---
For Royal Columbian Hospital
When I arrived at the hospital, I was overwhelmed by the helpful, smiling faces of every staff member I encountered. I can't thank everyone enough for putting me at ease and at times even making me laugh.
---
Thank you for all your hard work and endless hours taking care of us.
---
I was truly blown away by the level of care that I received. The quality of the people within our medical system is exemplary. Everyone involved in my care was above and beyond what one could hope for. They were knowledgeable, professional, warm and empathetic. I am deeply thankful.
---
All the staff were kind, courteous and very gentle while caring for my grandmother. I would like to acknowledge one of the nurses who really went out of his way to help, not just my mother but everyone. Thanks James for the care you provided, we are eternally grateful.
---
I would like to thank Nurse Amanda for the empathy and care she offered. We want to acknowledge her for going above and beyond. Her caring attitude and professionalism were so appreciated. We need more nurses like her.
---
For Surrey Home Health
Our family would like to thank the many caregivers who supported my mom. She often mentions how caring and pleasant everyone was and how she looked forward to seeing you. Your conscientious care has enabled her move into an Assisted Living facility where she is doing well. Thank you.
---
For Surrey Memorial Hospital
Being diagnosed with cancer and taking chemotherapy and radiation can be very frightening. However, from the very first day of treatment, the front desk staff Dessa and Robbie were wonderful. They were friendly, polite and very caring individuals. We were immediately at ease. They are the highlight of our day. Treatment is less stressful with these two, thank you.