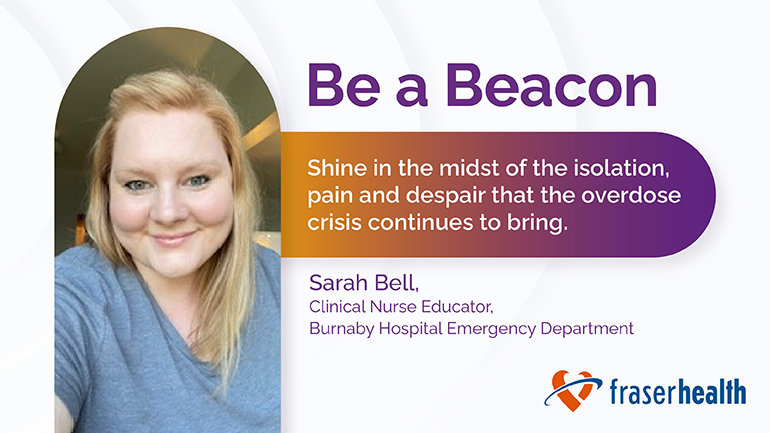 Clinical Nurse Educator Sarah Bell acts as a beacon for patients who use substances and the nurses who support them in Burnaby Hospital's Emergency Department.

Sarah Bell, clinical nurse educator, in Burnaby Hospital's Emergency Department (ED) helps ensure her nursing colleagues have the right education and training to provide wrap-around support to people who use substances.
"We have changed the way we respond to people who use drugs," Sarah says. "There is a lot of updated science and research behind substance use disorders and how to support people who use occasionally. There are many ways myself and my colleagues can practice our skills."
This work is a priority for Sarah and her team. It includes approaching all conversations with kindness and respect, in order to meet patients where they are at with regards to their substance use.
Sarah says there are two parts to being a beacon. The first involves interactions with patients. The second involves being a positive model for her colleagues – by bringing light, even when the work can be challenging.
"It can be hard, working in this time of drug toxicity," she says. "Our staff have families, histories and a myriad of experiences with substance use."
The creation of a safe space where staff can share their feelings and talk about their responses to their work has been instrumental in helping team members learn from and lean on each other.
Even if people don't come in for a substance use concern, Sarah and her team are always on the lookout for folks who might incidentally need support.
"There's a lot we do well here at Burnaby Hospital," she says. "We've had a high referral rate for SUSAT (Substance Use Services Access Team) for example, which is excellent. It means we're always thinking about the services people might need when they leave the ED."
These services are extended to anyone who uses drugs, including those who use occasionally. Sarah says the team's approach is, "Okay, if that's what you want to be doing, how can we prevent you from coming to harm? If that's not what you want to be doing, how can we support you to get out of the cycle?"
Working together as a team helps Sarah and her colleagues continually improve their communication with patients.
"If one of us recognizes we're not having effective communication with a patient, we tap [another nurse] to support the interaction. We do a lot of informal debriefing and listening. We all feel supported and cared for by each other and that helps us better care for our patients."
When it comes to being a beacon, Sarah stresses the importance of self-compassion and self-knowledge. She encourages Fraser Health staff to take advantage of the courses on Learning Hub, including Indigenous Cultural Safety 101 and Harm Reduction 101A and 101B.
"Once you have the knowledge, be brave," says Sarah. "My hope is that people feel that they don't necessarily need to say the perfect thing, they just have be willing to try. If we lead with compassion, that will always come through."