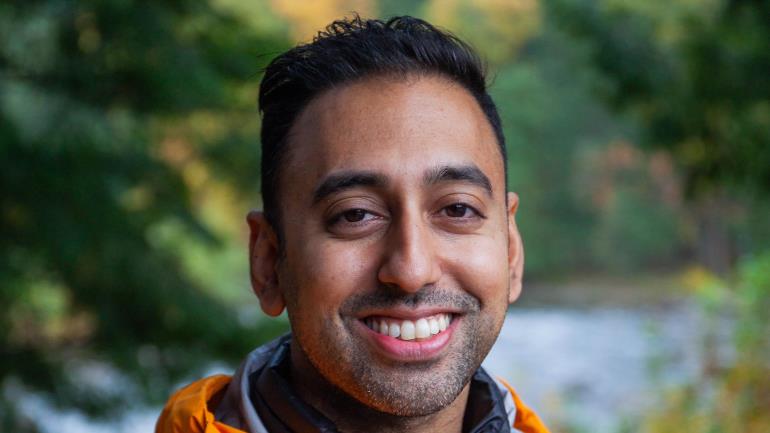 Dr. Aseem Grover is a leader in substance use care in the community of Hope. He is known for consistently breaking down barriers to individuals with substance use and provide them with a network of meaningful support services. He co-founded the Fraser Health Region Addictions Network, which strives to work collaboratively to better advocate for vulnerable patients and provide beneficial resources.
Five years into his career, Dr. Aseem Grover has already revolutionized substance use care in the rural communities of Hope and the Fraser Canyon – all while providing full-service hospital and emergency support and mentoring the next generation of young physicians to go above and beyond in their work every day.
Dr. Grover recalls his father, who started working as a physician in Canada in his late 30s taking him and his siblings on long drives and encouraging them to follow in his footsteps. "I'd fall asleep while he was talking but he'd save the good stuff for when I'd wake up," he remembers, laughing. Enamoured with sports and fascinated by the art and science of coaching, Dr. Grover was encouraged by his father to take his passion into medicine where he could teach and coach patients, families, colleagues and aspiring doctors.
While completing his residency at St. Paul's Hospital in Vancouver, Dr. Grover became fascinated by pilots for new medications and treatments and their potential to help patients with substance use concerns. When he arrived in the Hope/Fraser Canyon area to practice family medicine, he observed a lack of local support for people who used substances. Focussed on substance use, he started working in clinics across Fraser Health in order to bring this knowledge back to his own clinic in Hope. He paid for a bus to bring patients from Hope to Chilliwack to receive Opioid Agonist Therapy and counselling until his clinic was equipped to provide this same support. He delivered naloxone kits on his own time to people's homes and to places where he knew people used substances.
Dr. Grover's colleagues report being continually inspired and humbled by his collaborative spirit, one that comes from a place of deep caring, compassion and dedication. He has a relentless desire to make things better for patients – especially the most vulnerable.
Dr. Grover is also a co-founder of the Fraser Health Region Addictions Network whose purpose is to build connections, relationships, and community as well as share knowledge and experiences, support professional development, enable advocacy, and achieve system improvement. Dr. Grover says he takes the greatest pride in his ability to work collaboratively.
Through his work at the Special Services Clinic and at Fraser Canyon Hospital, Dr. Grover has significantly reduced barriers to those impacted by substance use. His work has created important inter professional connections, allowing patients to have a wrap-around team of professional support. He leaves no one out of important conversations around a patient's care and seeks and values the input of others. He collaborates tirelessly with community stakeholders to create an environment where a patient's quality of life is improved. Because of his efforts, many lives have been saved.
Dr. Grover says this desire to help comes from an understanding of what it is to have nothing. For someone who has nothing, even something small can make a great difference. "I see every day that small acts go miles to help people in their lives, and that trauma informed care has us looking at patients in a different way. In a small town, this really matters."
Leading by example, Dr. Grover is mindful and reflective of teaching new doctors the importance of continued growth. "What makes me go above and beyond every day is providing mentorship to medical residents and new physicians and modeling for them what a high level of practice standard looks like."
Dr. Aseem Grover is a recipient of this year's Above and Beyond Winner for Service Delivery Excellence.