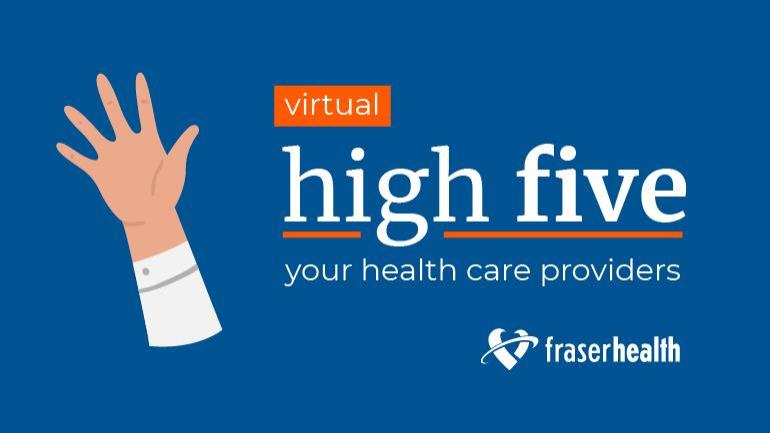 This week's high fives go to our amazing people at Surrey Memorial Hospital, Chilliwack General Hospital, Peace Arch Hospital, Burnaby Hospital, Ridge Meadows Wellness Centre and Royal Columbian Hospital.
Want to send a high five to your health care provider or Fraser Health team member? Leave a comment below or send your thanks using our online submission form. Read more kudos at fraserhealth.ca/highfive.
---
For Surrey Memorial Hospital
I visited Surrey Memorial Hospital due to a dislocated knee. One of the nurses from emergency department, Derrick, was incredibly kind and friendly. I wanted to share my thanks for his great care.
---
For Surrey Memorial Hospital
I would like to acknowledge the exceptional care that the MRI technician provided to my 85 year old father. Indira was knowledgeable and empathetic, humoring my father's sense of humour. Her level of professionalism and person-centred care made what could have been a traumatic experience a pleasant one. She also made sure to keep me informed and in doing so alleviated my concern.
---
For Surrey Memorial Hospital
I am forever grateful to the care I received. Everyone displayed amazing professionalism. You definitely are health care angels saving lives. Thank you.
---
For Chilliwack General Hospital
I wanted to thank Dr. Smith for helping me recently with my mental health. I felt well taken care of, thank you.
---
For Peace Arch Hospital
Thank you Dr. Chernenko for listening to my concerns and being so understanding. Dr. Chernenko was a great listener and made my experience at Peace Arch Hospital memorable.
---
For Burnaby Hospital
I recently visited Burnaby Hospital for an operation. Dr. Nelson who went above and beyond to provide amazing care. Thank you to Elizabeth, Max and Julie for their kind support throughout the procedure. I was amazed by the care I received. Gold stars across the board.
---
For Burnaby Hospital
Just want to say how fantastic the Pediatric Occupational Therapist and Physiotherapist teams are. From going to the hospital with us, to finding us a wide range of equipment to meet our needs. These teams go over and beyond for their kids and deserve every ounce of recognition.
---
For Ridge Meadows Wellness Centre
I was referred to the Chronic Pain Management Program by my family physician and just completed the educational portion of the program. This is an excellent program delivered by skilled and caring health care workers from different areas of expertise. Thank you for the valuable information.
---
For Royal Columbian Hospital
Thank you to Blair in the X-ray Department and Geriatric Nurse Sharm for their kindness during my elderly mother's recent Emergency Deparment visit. It was very much appreciated.
---
For Royal Columbian Hospital
I visited the hospital for a foot operation and would like to thank all the staff that I encountered. From check-in to the nurses in the unit. Every person was exceptional in providing patient care. Royal Columbian Hospital should be very proud of their staff.
---
For Royal Columbian Hospital
I visited the Emergency Department with a relative and was very impressed with the department's efficiency. The staff that we encountered were courteous and the method of attention and care to expedite the patient's health concerns were excellent. Thank you.
---