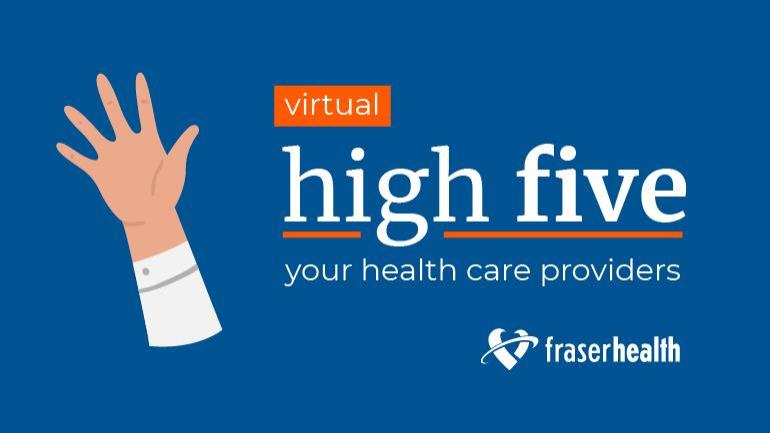 This week's high fives go to our amazing people at Abbotsford Urgent and Primary Care Centre, Burnaby Hospital, Delta Hospital, Peace Arch Hospital, Queen's Park Care Centre, Royal Columbian Hospital and Surrey Memorial Hospital.
Want to send a high five to your health care provider or Fraser Health team member? Leave a comment below or send your thanks using our online submission form. Read more kudos at fraserhealth.ca/highfive.
---
For Abbotsford Urgent and Primary Care Centre
I would like to thank the whole team at the Abbotsford UPCC. Every staff member I came in contact with went above and beyond. I would also like to thank Mairin and Nicole for their great care. Five stars across the board, including the staff at the reception desk who went the extra mile.
---
For Burnaby Hospital
I just wanted to thank Nicole for being so wonderful while I was a patient in the Emergency Department. She's a wonderful nurse who was so helpful and calming.
---
For Delta Hospital
I would like you to take the time to thank the doctors, nurses and other support staff in the Emergency Department at Delta Hospital who helped me heal from a very bad bout of pneumonia. Over the six days I was there I could see the demand on the nurses and others as they worked tirelessly to deal with all that came in, from simple wounds to cardiac arrests. Thank you for your tireless efforts to provide care to patients.
---
For Peace Arch Hospital
I went for mammogram today and the technician was amazing. Patient, efficient and reassuring. I am grateful for her care and kindness.
---
I wish to commend Nurses Roman, Derrick and Bosana who were directly responsible for my care. These nurses are exceptionally dedicated to their careers. Professional, genuine, compassionate, humorous and always positive even under pressure and unpredictable circumstances. Their care was outstanding.
---
I wanted to thank Shaz for the wonderful care of my brother while he was in hospice care at Peace Arch Hospital. She and the other staff were excellent. Thank you all so much.
---
For Queen's Park Care Centre
I just wanted to thank the team for the amazing rehab, care and dignity I received from all the staff. You are truly gifted in treating your patients.
---
For Royal Columbian Hospital
It's never great to have to spend the day in the Emergency Room. However, even though it was busy I was admitted quickly and my pain was addressed with compassion and sincerity. Thank you Lisa, Anna, Dr. Miller and the charge nurse for your care.
---
For Surrey Memorial Hospital
My partner recently spent some time in the hospital. Even though it was busy every single staff member we came into contact with was outstanding. From the Emergency Department doctor, who was amazing, to the nurses who cared for my partner, to the porters - everyone was so kind. Many thanks to all.
---
I just wanted to express my gratitude for the excellent care and attention by all the staff that I encountered during my procedure. Every single staff member was so caring, I really appreciated it. What a great team.