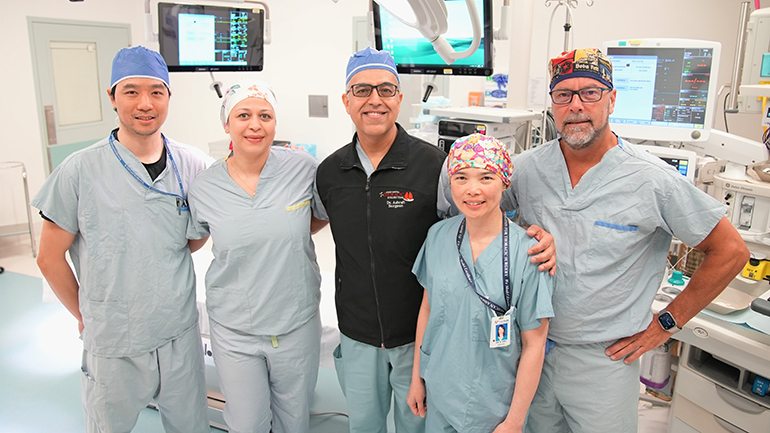 Thoracic surgeons at Surrey Memorial Hospital participate in an international multi-center randomized clinical trial for lung cancer surgery.
Photo (from left to right): Dr. Chuck Wen, Dr. Nazgol Seyednejad, Dr. Ahmad Ashrafi, Dr. Sharon Ong, Dr. James Bond
A study published in the New England Journal of Medicine co-authored by a member of the Surrey Thoracic Surgery Group offers a new standard for treating patients with node-negative peripheral stage IA Non-Small-Cell Lung Cancer.
"This research will change the standard of surgical care and benefit patients globally. Thoracic surgeons around the world can now use the treatment outlined in the study and impact the patient's quality of life by performing lung-preserving surgery," says Dr. Ahmad Ashrafi, Fraser Health's regional division head of thoracic surgery at Surrey Memorial Hospital, co-author, and principal investigator for the randomized clinical research trial.
Lobar or Sublobar Resection for Peripheral Stage IA Non–Small-Cell Lung Cancer compared two surgical techniques to determine if there were any differences in the overall survival and disease-free survival of the techniques. In the lobar resection, an entire lobe of the patient's lung is removed. In the sublobar resection, only a portion of a lobe is removed. "The gold standard since 1995, when the last trial ran on these operations, has been to remove an entire lobe of the patient's lung. Our research shows that for smaller cancers, a sublobar resection, which removes a portion of a lobe from the patient's lung, is as good a cancer operation as removing an entire lobe when it comes to overall and disease-free survival," says Dr. Ashrafi.
"This will have a significant positive impact on our patients and the treatment options available to them. By removing a small section of the lung, rather than a full lobe, we can preserve more of the vital lung tissue."
Dr. Ashrafi and his team, Dr. Bond, Dr. Ong, as well as clinical research nurses, Tayne Bong and Sajia Yousofi, have been working on this research since 2009. Nearly 700 patients, including 56 at Surrey Memorial Hospital, were treated and followed for nearly a decade to determine their outcomes. Study participants received a lobar or sub-lobar resection. Surrey Memorial Hospital was one of four sites in Canada and 83 around the world that participated in this clinical research trial.
"We hope that this study will lead to Surrey Memorial Hospital and Fraser Health participating in more high-calibre clinical research trials of this nature. We are always seeking innovative ways to treat and manage our patients and this is a great example," concludes Dr. Ashrafi.