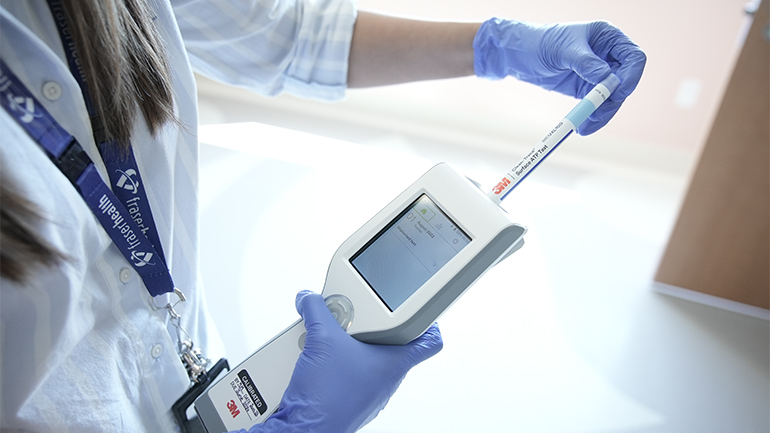 It takes diligent and dedicated housekeeping staff using technology to keep on top of viruses and bacteria that linger on surfaces and potentially cause infection.
Protecting patients from invisible germs requires a multi-pronged approach that combines conventional cleaning with tools and monitoring. Now, Fraser Health has a new tool to help keep our sites safer for patients and staff: Adenosine Triphosphate (ATP) testing.
Once spaces and equipment in Fraser Health facilities are cleaned and disinfected, housekeeping management and quality control teams swab the surface to obtain a sample. Then, the sample is placed in a Luminometer—a device that measures ATP, which is the organic matter left behind on the surface. A higher reading means more contamination.
"By measuring ATP, we are able to determine if an area has been properly cleaned and disinfected or should be cleaned more frequently," says Jody Miller Elliot, Director of Housekeeping Strategies and Initiatives for Fraser Health.
ATP is a molecule found in all living cells and is responsible for transferring and storing energy. Hot spots for ATP include high-touch areas such as: elevator buttons, bedrails, washroom door knobs, paper-towel dispenser and toilet seats.
"When you look at a surface, it may appear clean, but germs and bioburden aren't always visible," says Jody. "We measure and track ATP to help inform our quality assurance program so we know that our cleaning and disinfection protocols are working."
ATP testing works in conjunction with other forms of disinfection including: UVGI robots, UVGI pods and our Highlight cleaning system. Combined, they reduce the risk of infections such as Clostridioides difficile (C. difficile), carbapenemase-producing organisms (CPO), Candida auris (C. auris) and methicillin-resistant Staphylococcus aureus (MRSA).
ATP testing is currently being rolled out at all hospitals and owned and operated long-term care sites in the Fraser Health region.
Watch here: