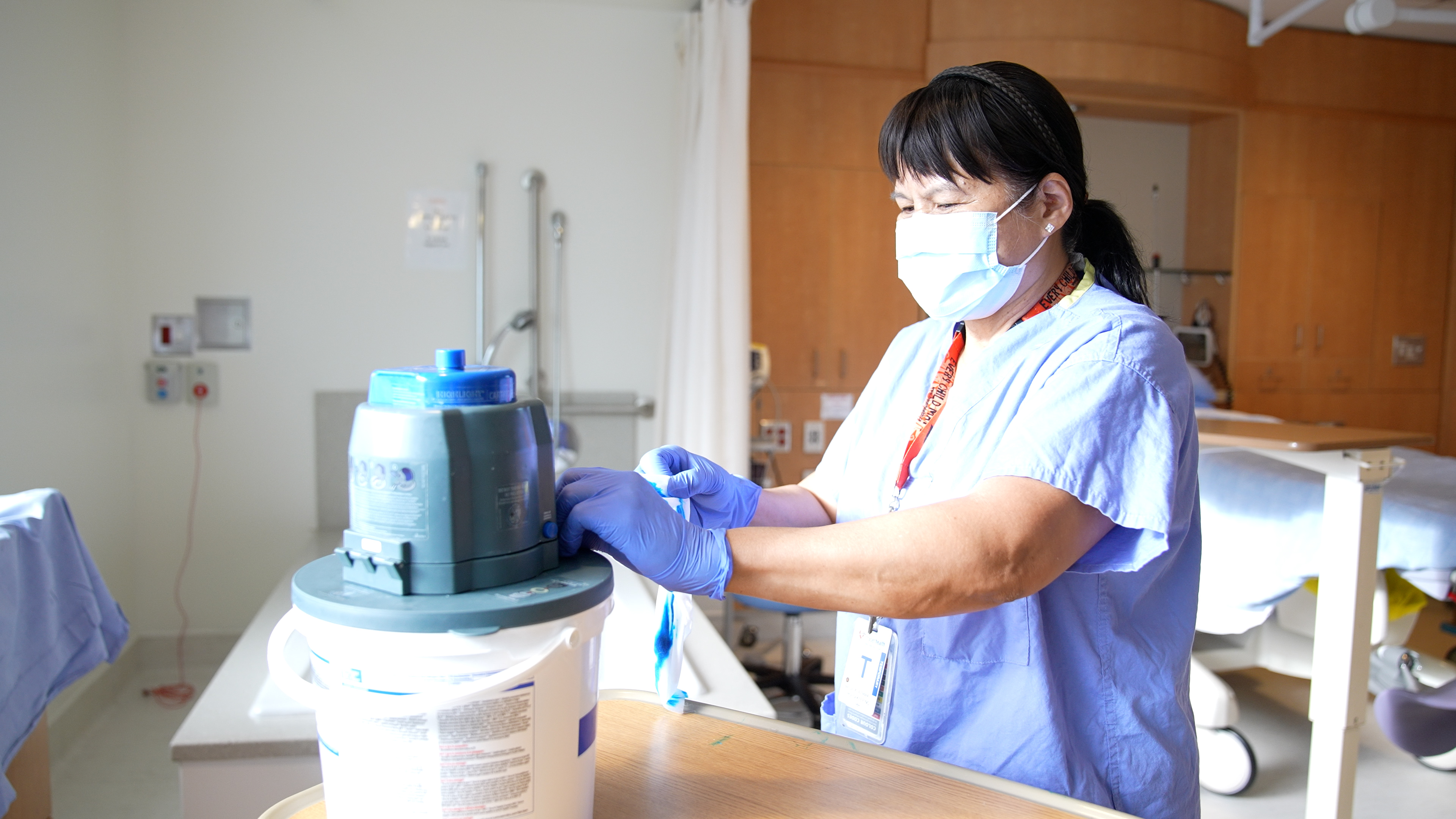 A new infection-control tool is now in place at hospitals across the Fraser Health region and will soon be implemented at long-term care sites.
Staff and medical staff are seeing blue—and that's a good thing. The standard bleach wipes used to wipe down surfaces are now sporting a bright blue hue, courtesy of a disinfection system known as Highlight.
Highlight colors the disinfectant wipes so staff can see where they've cleaned. The blue fades to clear if the cleaning is thorough. If the color remains, additional cleaning is required.
It's a win-win for patients and staff as cleaning and disinfecting reduce the risk of infections such as Clostridioides difficile (C. difficile), carbapenemase-producing organisms (CPO), Candida auris (C. auris) and methicillin-resistant Staphylococcus aureus (MRSA).
"This is one of the first products we've brought into Fraser Health that can be used system-wide by both housekeepers and clinical staff," says Jody Miller Elliot, Director of Housekeeping Strategies and Initiatives, Fraser Health. "We can see where the chemistry is applied on the surface to disinfect."
The new system has its roots in the 2014 Ebola epidemic that originated in West Africa and spread to other regions including North America. Ebola virus is transmitted by direct contact with the blood or other body fluids of an infected individual and/or indirectly through contact with environmental surfaces where the virus lingers. Therefore, Ebola treatment workers wear protective equipment that must be removed only after it is sprayed completely with bleach.
Columbia University students developed an additive powder for bleach that didn't alter the efficacy of the bleach but turned it blue. Medical teams could then visualize the complete coverage and disinfection of their protective gear, thus reducing the risk of accidentally transmitting Ebola.
Out of this innovation, the company Kinnos was born. Two of the original founders still lead the company today and helped train Fraser Health managers and staff on how to use the Highlight system.
"Highlight is simple and effective, and the time was right to bring it in because the repatriation of housekeeping services allowed us to streamline our products and protocols," says Miller Elliot. "We are the first health authority in Canada to use this system-wide, and it's the first time it has been implemented on such a wide scale."
Watch here: