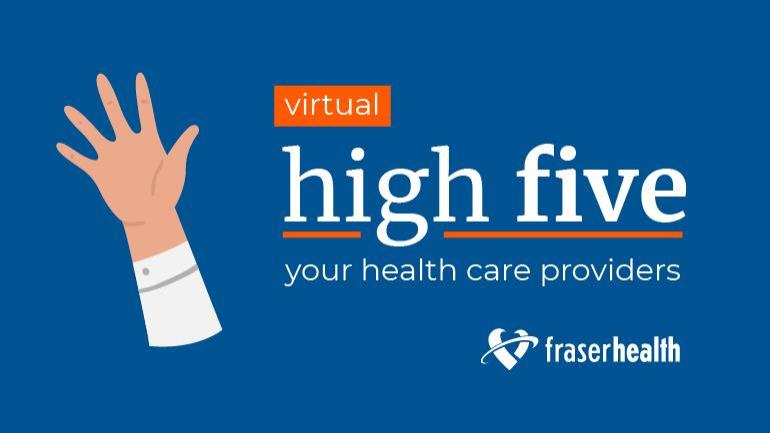 This week's high fives go to our amazing people at Abbotsford Regional Hospital, Burnaby Hospital, Eagle Ridge Hospital, Jim Pattison Outpatient Care and Surgery Centre, Peace Arch Hospital, Port Moody Urgent and Primary Care Centre and Royal Columbian Hospital.
Want to send a high five to your health care provider or Fraser Health team member? Leave a comment below or send your thanks using our online submission form. Read more kudos at fraserhealth.ca/highfive.
---
For Abbotsford Regional Hospital
Thank you to the incredible medical team in the maternity ward. I had an unplanned C-section and everyone was super supportive and professional. I appreciated that the doctors were informative during the whole process. Great job.
---
For Burnaby Hospital
I wanted to send my heartfelt thanks to the wonderful team in the emergency department. Dr. Allan and staff were kind and helpful. From arrival at triage till the end of our visit, the staff were polite, helpful and professional. Thank you to Nurse Ryan for answering all my questions.
---
For Eagle Ridge Hospital
Thank you to the emergency department team at Eagle Ridge [Hospital] for the exceptional care our young child received during our recent visit. Dr. Arnold, nurses and support staff were incredible.
---
For Jim Pattison Outpatient Care and Surgery Centre
Due to complications during my pregnancy, I frequently visited Dr. Karacabeyli. I greatly appreciated the incredible care with which she conducted our visits. I felt listened to, never judged, and that my health and well-being - not just my baby's - was considered. Her knowledge and passion for her patients was apparent. Outstanding care.
---
For Peace Arch Hospital
My wife had day surgery that ended up requiring an overnight stay. She had a very positive experience with all your staff. Everyone, from admitting clerks to nurses and doctors, was very polite, friendly, knowledgeable and highly professional. Thank you to all.
---
For Port Moody Urgent and Primary Care Centre
Thank you to everyone at the Port Moody Primary Urgent Care Centre. The great care they provided my daughter has her quickly on the road to recovery. Many thanks.
---
For Royal Columbian Hospital
I can't thank the team enough for my amazing visit. All of the many doctors and nurses that helped me were phenomenal. Thank you for making my first hospital visit great.
---
I want to recognize Nurse Kari for her amazing care and attention. She was able to recognize and support the specialized care I needed. She went above and beyond amidst the busy emergency department. Another shout out to Dr. Green for the understanding and exceptional care I received from them. I am grateful, thank you.
---