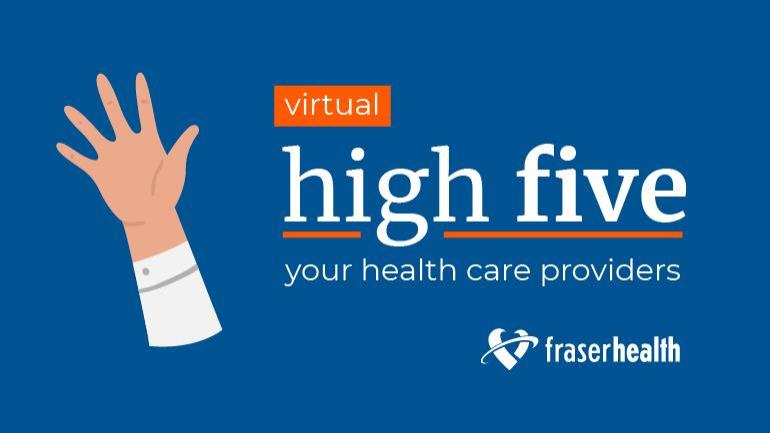 This week's high fives go to our amazing people at Abbotsford Regional Hospital, Burnaby Hospital, Chilliwack General Hospital, Eagle Ridge Hospital, Ridge Meadows Hospital, Royal Columbian Hospital and Surrey Memorial Hospital.
Want to send a high five to your health care provider or Fraser Health team member? Leave a comment below or send your thanks using our online submission form. Read more kudos at fraserhealth.ca/highfive.
---
For Abbotsford Regional Hospital
The booking clerk in the General Daycare Unit is incredible. She is pleasant and friendly every time I call to book an appointment. Thank you.
---
We were so impressed by the Palliative Complex Care Unit Team. The nurses and doctors were amazing. They earnestly accommodated all of our requests and consulted with us on every decision. We were thankful for the unit's calm, quiet and relaxed atmosphere. Many thanks to this team – they made a difference at a difficult time.
---
For Burnaby Hospital
Our sincerest thanks to Nurses Kim, Miho and Shereen for the kind, compassionate care they showed my father. Thank you to Dr. Germaine for his genuine, caring attitude. He ensured we understood our father's current medical condition, his available options and took the time to answer our questions and address our concerns. We greatly appreciated everyone.
---
Kudos to the nurse that went above and beyond to assist patients. I observed her ensure they were comfortable by offering books and magazines. She was by far one of the best nurses I have ever encountered.
---
For Chilliwack General Hospital
I recently visited the Emergency Department due to back pain. I wanted to thank Nurse Diana for helping me feel comfortable in a bed – she was amazing.
---
Our first baby was born at Chilliwack General Hospital. The whole experience was excellent. We felt well supported by the doctor and all the nurses. A shout out to Nurses Rebecca and April for making our baby's arrival so special.
---
Eagle Ridge Hospital
Thank you to Nurses Beydokht and Edz for the great care post-ankle surgery. I truly believe they have a servant's heart and they gave me the best care possible. Thank you from the bottom of my heart.
---
For Ridge Meadows Hospital
During my eight-month stay at Ridge Meadows Hospital, I received the best care from the doctors, nurses, care aides and physiotherapy staff. I want to give a high five to Care Aides Carly and Nicole for their wonderful care.
---
For Royal Columbian Hospital
My husband was taken to Royal Columbian Hospital after a horrific motor vehicle accident. I wanted to compliment the great care we received. Thank you to Ivy and Dr. Hameer for their care and compassion. We are both grateful.
---
For Surrey Memorial Hospital
I visited the Emergency Department for a severe cut on my hand. I was treated promptly and the nurses and doctors were really kind. Thank you.
---