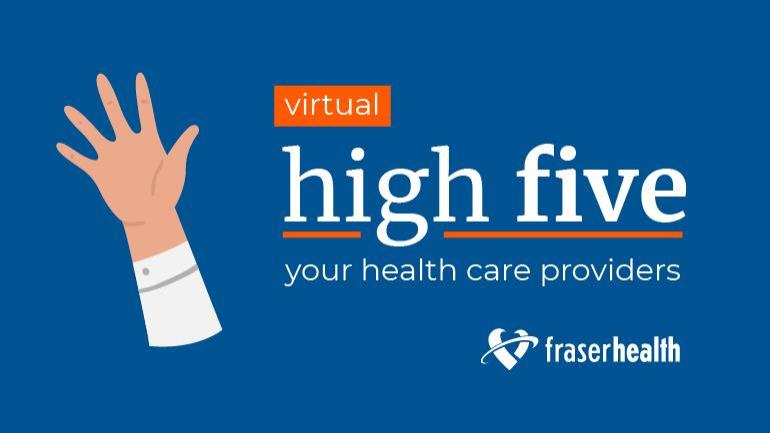 This week's high fives go to our amazing people at Abbotsford Regional Hospital, Burnaby Hospital, Chilliwack General Hospital, Ridge Meadows Hospital, Royal Columbian Hospital and Surrey-Newton Urgent and Primary Care Centre.
Want to send a high five to your health care provider or Fraser Health team member? Leave a comment below or send your thanks using our online submission form. Read more kudos at fraserhealth.ca/highfive.
---
For Abbotsford Regional Hospital
When my grandson and I visited the Abbotsford Regional [Hospital] Emergency Department, the staff was incredibly attentive and kind. As busy as it was, they provided excellent care and even located a charger for my phone to help keep his mom updated. Kudos to the team.
---
Thank you to every nurse and medical professional my elderly mother has encountered during her hospital stay. Everyone has been extremely kind and helpful to her and our family. Thank you for providing exceptional care in a complex situation.
---
For Burnaby Hospital
I recently visited the Emergency Department due to a laceration. I was thoroughly impressed with the professionalism, care and manner of all the staff, from initial triage to the attending physician.
---
Thank you to Nurse Tom and Brenda for their incredibly caring bedside manner and attentiveness to patients.
---
For Chilliwack General Hospital
Thank you to Dr. Kiani for helping me feel better when I was struggling with my mental health. You are appreciated.
---
For Ridge Meadows Hospital
I wanted to give a high five to Paul and Kate in the Rehabilitation Unit at Ridge Meadows [Hospital]. The side of my body was left paralyzed after I had a brain tumor removed. Due to Paul and Kate's help through my rehabilitation journey I recovered my mobility. I will be forever grateful; they are the best.
---
I received the highest quality of care during my stay in Ridge Meadows [Hospital]. Every nurse was cheerful, caring and invested in providing the best possible care. They regularly checked in on me and answered any questions I had. I feel fortunate to have been in the care of exceptionally dedicated, compassionate and kind nursing staff. Please convey my appreciation and thanks.
---
For Royal Columbian Hospital
Thank you to the staff in the Emergency Department for their excellent care. Everyone was so pleasant and helpful. Your hard work and dedication did not go unnoticed and was truly appreciated.
---
Thank you to Nurse Anika for her pleasant, professional and attentive demeanor.
---
For Surrey-Newton Urgent and Primary Care Centre
I visited the Emergency Department for a severe cut on my hand. I was treated promptly and the nurses and doctors were really kind. Thank you.
---