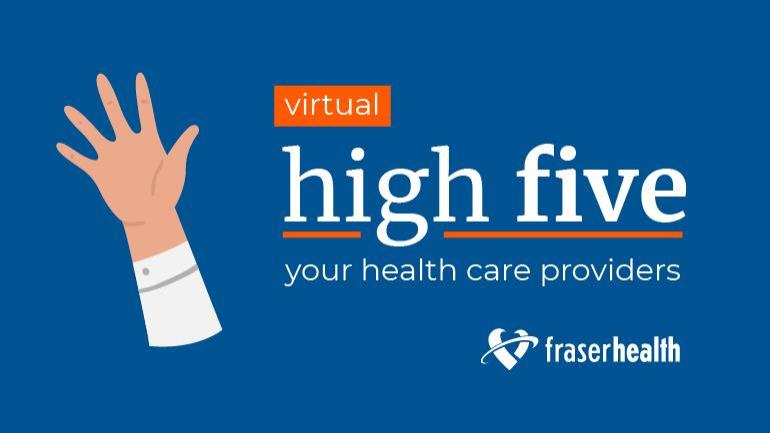 This week's high fives go to our amazing people at Abbotsford Regional Hospital, Burnaby Hospital, Chilliwack General Hospital, Delta Hospital, Eagle Ridge Hospital, Peace Arch Hospital, Port Moody Urgent and Primary Care Centre, Royal Columbian Hospital and Surrey Memorial Hospital.
Want to send a high five to your health care provider or Fraser Health team member? Leave a comment below or send your thanks using our online submission form. Read more kudos at fraserhealth.ca/highfive.
---
For Abbotsford Regional Hospital
Thank you Dr. Melynachuck for being a kind, great doctor. He took a bad day and added some humor, humility, respect and empathy. I appreciated when he called my dad after our visit to make sure he was okay.
---
For Burnaby Hospital
Thank you to Claudia for being friendly, supportive and attentive. I really appreciated her positive energy.
---
For Chilliwack General Hospital
My dad recently visited the Emergency Department and received excellent care, as always. Thank you to the staff at Chilliwack General Hospital for all the great work you do.
---
A very big thank you to all the fabulous staff. From the staff at check-in, to the nurses, care aides, phlebotomist, x-ray technician, ECG technician and Dr. Oostenbrink. I am thankful for the friendly and professional care I received. Kudos.
---
For Delta Hospital
I wish to thank the staff at Delta Hospital, including the nurses, anesthesiologist and surgeon for a very positive experience. Their kindness and professional behavior were much appreciated. We also enjoyed looking out the window at the hospital garden. We would recommend this hospital to anyone awaiting day surgery. Our deepest thanks again to the staff for their friendly behavior towards my friend and me.
---
For Eagle Ridge Hospital
Thank you to the staff at Eagle Ridge [Hospital] for the fantastic care I received during my hernia procedure. Upon arrival, the check-in staff were friendly and polite. On my way to pre-operative, I met the wonderful Nurse Cash. She made me feel relaxed and truly cared for. Thank you to Meaghan and Dr. Konkin for providing excellent care and making the surgery quick and uneventful. I would also like to thank Jodi for assisting me in my post-operative care. She made me feel comfortable and cared for. Thank you again to everyone.
---
For Peace Arch Hospital
Kudos to the kind and professional Emergency Department staff at Peace Arch [Hospital]. Special thanks to Micki, Sam and Spencer for their kindness when I was in a lot of pain. As a retired nurse of 42 years, I was thankful and appreciative of their professional, caring manner. Thank you.
---
For Port Moody Urgent and Primary Care Centre
My sincerest thanks to Dr. Shorthouse for her medical advice and treatment. My hand and arm were swollen, itchy and painful. A day after the treatment, the swelling subsided greatly. Thank you, Dr. Shorthouse.
---
For Royal Columbian Hospital
I recently visited the Emergency Department and received care from a thoughtful, kind, patient and friendly nurse. I didn't get his name but I appreciated how he made me feel safe. I'd also like to thank Dr. Braunstein, he was top-notch.
---
For Surrey Memorial Hospital
Thank you to the nurses, Dr. Neufeld and Justin in Physiotherapy. I had a great experience and was impressed with the attention to detail and care I received. My recovery has been great.
---
I wanted to thank the staff who provided care to my terminally ill mother. While we knew she was passing soon, it was a bit sooner than expected. The staff treated my mom and my family with kindness and compassion. Thank you from the bottom of my heart. I will never forget them.
---
Thank you to the phenomenal nursing staff, with special mention to Jeff, Joyce, Benita and Kelly. All the staff were polite, professional and answered our questions as best they could. Kudos to the team.
---