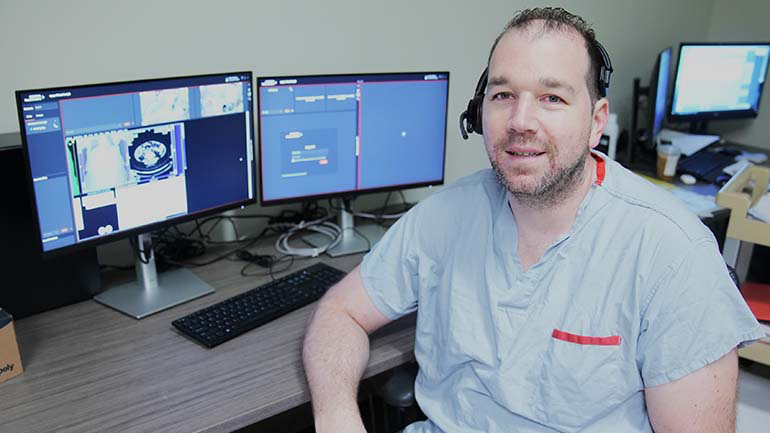 The Medical Imaging team at Royal Columbian Hospital now has access to CT remote scanning support through the syngo Virtual Cockpit software.
The syngo Virtual Cockpit (sVC) software was developed by Siemens Healthineers and enables experienced technologists from the Medical Imaging team to become remote steering technologists, remotely supporting on-site technologists in operating up to three scanning machines.
"The technology is pretty spectacular — this software allows a CT technologist to remote into the CT scanner," says Michael Milkovic, workflow implementation lead, Medical Imaging, Royal Columbian Hospital. "A remote technologist can help support staff with selecting protocol and additional imaging by taking the images and reconstructing them into different views."
Remote steering technologists can connect with the modality technologist on-site through live video, audio and chat functions and can be given complete control or read-only access. The sVC software also allows them to review and adjust scan acquisition and contrast injection parameters through a live video stream of the patient and contrast injector.
Sharing the knowledge and expertise of senior technologists with junior technologists is one of the most significant advantages of this software, as it provides real-time support and encourages collaboration between the Medical Imaging teams.
"As a training tool, this software will give a junior technologist more autonomy towards the end of their training," says Milkovic. "They can make the majority of the decisions but be at ease knowing they have real-time support from a remote steering technologist."
"We are excited to implement this technology into our department's workflow," says Debbie Huebner, supervisor, Medical Imaging, Royal Columbian Hospital, "It's a huge benefit for the future of health care as we'll be able to train new CT technologists faster than before and the remote steering technologists can support up to three scanners at a time using this software."
Patient experience is at the core of this new tool as the software helps expand patient access to CT scans. In the future, Medical Imaging will also implement this technology into MRI suites at Royal Columbian Hospital.
"Our teams are excited to be the first in Canada to have access to the new syngo Virtual Cockpit software," says Ken Winnig, executive director, Medical Imaging, Provincial Health Services Authority, "This technology is a tool to help us improve access and our patient experience by supporting staff when performing complex scans and improving our workflow, staff satisfaction and training."
Watch to learn more about the syngo Virtual Cockpit (sVC) software: