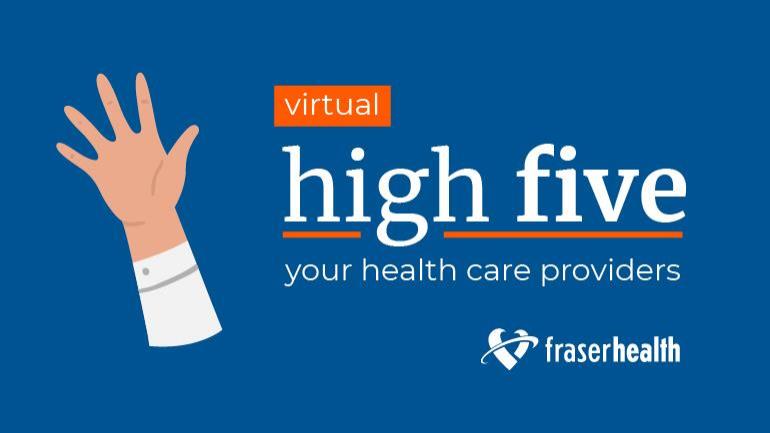 This week's high fives go to our amazing people at Burnaby Hospital, Chilliwack General Hospital, Jim Pattison Outpatient Care and Surgery Centre – Breast Health Clinic, Eagle Ridge Hospital, Royal Columbian Hospital, Surrey Memorial Hospital and Peace Arch Hospital.
Want to send a high five to your health care provider or Fraser Health team member? Leave a comment below or send your thanks using our online submission form. Read more kudos at fraserhealth.ca/highfive.
---
For Peace Arch Hospital
I've been in many hospitals and I can say Carrie and staff in Day Surgery and Cory and staff in Post-operative were amazing. I only encountered happy and extremely helpful staff. Their excellent care made it hard to leave. Thank you.
---
For Chilliwack General Hospital
Dr. Hussain is the best doctor ever. He truly helps and cares. Thank you.
---
For Royal Columbian Hospital
The staff that I encountered were great. They understood and listened to my concerns. Thank you.
---
Burnaby Hospital
Dr. Webster and Nurse Ellie did a fantastic job with our little one. Our child felt calm and safe throughout thanks to Nurse Ellie.
---
We visited the emergency room twice in one week. Over our two visits, all the staff from greeters to nurses to technicians to the doctors were fantastic. I wanted to be sure to pass on kudos to all involved.
---
For Eagle Ridge Hospital
My recent visit for shoulder surgery was such an incredible experience. I am most grateful for the care, concern and attention provided by the staff. The professionalism demonstrated by all, including the nursing students, was such a treat and much appreciated. Thank you.
---
I brought my sick daughter to the Eagle Ridge [Hospital] Emergency Room. The nurses were absolutely phenomenal. They were so patient, kind and caring with my daughter. Thank you so much to the amazing nurses. I was scared when we came to the Emergency room but you put me at ease.
---
For Jim Pattison Outpatient Care and Surgery Centre - Breast Health Clinic
My experience attending this clinic was one of exceptional professionalism, empathy, individual medical care and concern by Dr. Janzen and her team. I cannot express my thanks enough for their proficiency and care.
---
For Surrey Memorial Hospital
Thank you to the staff in the emergency room for their excellent care. Kudos to Dr. Sareh and the nurses who were very kind and compassionate.