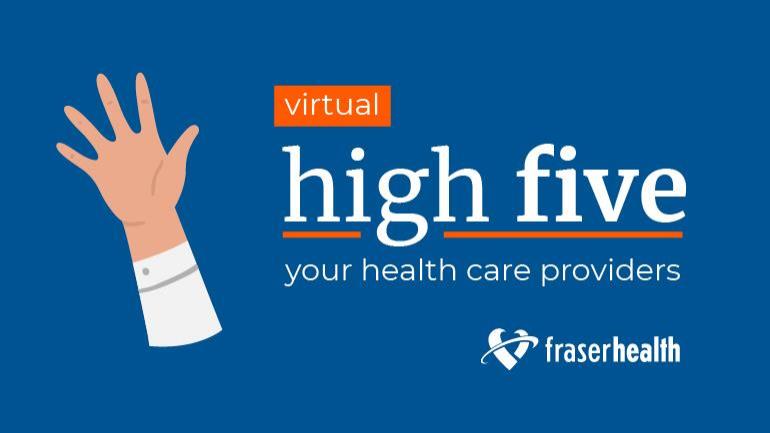 This week's high fives go to our amazing people at Abbotsford Regional Hospital, Abbotsford Urgent and Primary Care Centre, Burnaby Hospital, Delta Hospital, Eagle Ridge Hospital, Langley Memorial Hospital, Peace Arch Hospital, Ridge Meadows Hospital, Royal Columbian Hospital and Surrey Memorial Hospital.
Want to send a high five to your health care provider or Fraser Health team member? Leave a comment below or send your thanks using our online submission form. Read more kudos at fraserhealth.ca/highfive.
---
For Abbotsford Regional Hospital
I am an Indigenous outreach worker from the Mission Friendship Centre. I had a client who was visiting the Psychiatric unit. My client had a nurse named Dan who went above and beyond. Dan understood my client's trauma and handled it with such care and professionalism. He truly made a mark on my client and we will be forever thankful for him. We need more nurses like Dan in this world. Thank you Dan.
---
For Abbotsford Urgent and Primary Care Centre
Twice in the past two months, my family has been able to get same-day care from our Abbotsford Urgent and Primary Care Centre when the situation was not serious enough to go to the Emergency Department and when family doctors were not available in a timely manner. Being triaged over the phone or on site respected our time. I'm excited about seeing this model grow because it works and fills an important gap in primary care.
---
For Burnaby Hospital
My dad dislocated his shoulder and received care at Burnaby Hospital. I'd like to give thanks to everyone involved in his care. Particularly the Emergency Department nursing clerks who first saw him and Dr. Jiang who assessed him and who was involved with his care from start to end. Thank you.
---
For Delta Hospital
I have to say what a great experience I had for my hernia repair at Delta Hospital. Beginning with Corinne, then Brenda the pre-operative nurse, the post-operative nurse Brenda, Dr. Robibo and Dr. Mast and finally the nurses in the operating room. The patience, phone calls, explanations, politeness, professionalism, care and understanding was above and beyond. Thank you. What a team.
---
For Eagle Ridge Hospital
We are grateful for Eagle Ridge Hospital Emergency Department staff's timely handling of my wife's illness. Special thanks to Nurse Katie for her thoughtful contributions to addressing our concerns. Her efforts were beyond our expectations and gave everybody peace of mind for the rest of the night, which in turn, positively helped stabilize my wife's symptoms. This is the power of kindness and caring.
---
For Langley Memorial Hospital
Meagan and Jessica were awesome. They answered all our questions with a calm demeanor and were incredibly assuring. Thank you.
---
For Peace Arch Hospital
Kudos to the nursing staff at Peace Arch Hospital. In particular, Jamie and Cody. All the nurses maintained a professional and positive attitude. It made my stay with a fractured hip much easier. Thank you.
---
Accolades to every single person I saw in Surgical Day Care. It was my first visit to the Surgical Day Care unit and my first colonoscopy. From Stephanie at the welcoming desk, to Nurse Natthalie, to Dr. Francoeur and the rest of the staff. They were all very professional and knowledgeable and put me at ease. Thank you.
---
For Ridge Meadows Hospital
I wanted to highlight my experience with Dr. Nobar in the Emergency Department at Ridge Meadows Hospital. I visited the Emergency Department for widespread pain and tremors. Dr. Nobar did blood work and a CT scan which were all normal. He then referred me to neurology and followed up with me in January. I have never felt so cared for.
---
For Royal Columbian Hospital
I was very impressed at how the staff worked with efficiency, but also with humanity. In particular Nurse Shelly and Nurse Emily, who have a knack for instilling calm in people. People with that kind of gift are invaluable. Thank you.
---
For Surrey Memorial Hospital
I wanted to give kudos to a fantastic respiratory therapist nurse Carla. She was she was so thorough, knowledgeable, helpful, friendly and a good listener. She is a great asset to Fraser Health. Thank you again Carla for all your help.
---
We just wanted to share our thanks to the staff at Surrey Memorial Hospital. Everyone has been kind and understanding of our extraordinary situation. Thank you again to everyone, especially the registered nurses in the Neonatal Intensive Care Unit (NICU).
---
I visited the Emergency Department at Surrey Memorial Hospital. I wanted to thank Dr. Golby who was a great doctor. He takes his time to understand and is very thorough with his care. I felt well taken care of and treated kindly by him.
---
Thank you to the professional and efficient team of triage nurses, phlebotomists and porters that I encountered while my friend was in the Emergency Department. You are hardworking, amazing people. So calm and kind and compassionate. The phlebotomist even helped us smile during the stressful experience. You are appreciated.
---
Surrey Urgent Care Response Centre
I want to thank all the wonderful staff at the Urgent Care Response Centre in Surrey because they do a wonderful job. I have been attending appointments with a counselor for three weeks and feel very grateful that they are there to help.
---