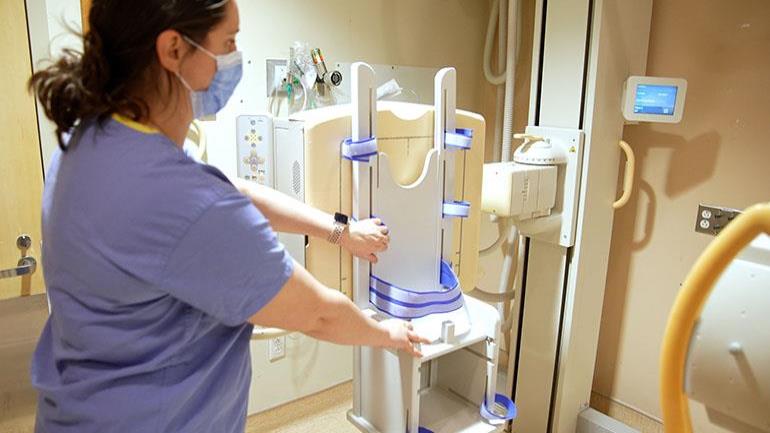 The Pedia-Poser chair keeps children steady for fast and efficient X-ray imaging.
The new Pedia-Poser chair at Langley Memorial Hospital makes the process of capturing X-ray imaging faster and safer for pediatric patients.
The chair mimics the design of an adjustable high chair and rotates to get all the necessary views required.
"The new chair is a helpful addition to enhancing service delivery to our pediatric patients," says Rhonda L'Abbe, Manager, Site Services, Langley Memorial Hospital. "Not only will this improve the care experience for the patient, but it will also support service efficiency for the site as a whole."
"We know that every time we take an X-ray, there is a small dose of radiation involved, and we always want to try to optimize the pictures the first time around," says Tammy Karoway, site coordinator, Medical Imaging at Langley Memorial Hospital. "By being able to keep the child still in the Pedia-Poser, we are less likely to require a second round of imaging."
The chair was made possible through the support of generous donors to the Langley Memorial Hospital Foundation.
"The foundation always fundraises for the most urgent need across the hospital," says Heather Scott, executive director, Langley Memorial Hospital Foundation. "This was identified as one of the most important needs this year to support the Medical imaging team and their pediatric patients."
Watch to learn how the Pedia-Poser chair is making a difference: