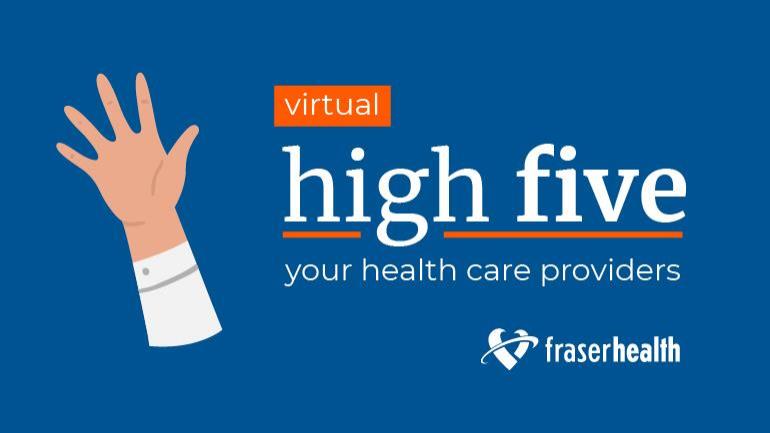 This week's high fives go to our amazing people at Royal Columbian Hospital, Ridge Meadows Hospital, Abbotsford Regional Hospital, Surrey Memorial Hospital, Mission Memorial Hospital and Langley Memorial Hospital.
Want to send a high five to your health care provider or Fraser Health team member? Leave a comment below or send your thanks using our online submission form. Read more kudos at fraserhealth.ca/highfive.
---
For Royal Columbian Hospital
My son was transferred to the Intensive Care Unit (ICU) in critical condition. The staff went through great lengths to try and save him. The incredible skill and care he received while visiting was second to none. Everyone from medical staff to housekeeping were wonderful. I will always remember the friendliness, care and kindness that we received.
---
My little one was sent to the Neonatal Intensive Care Unit (NICU) at Royal Columbian where he received incredible care. All the nurses were astounding and consistently kept us informed and updated. Six months later he is doing well and growing like a weed. Thank you.
---
I just wanted to say a huge thank you to the staff at Royal Columbian Hospital. I visited the emergency room due to a sprained ankle. The entire department was running smoothly and efficiently and I was in and out in under three hours. This included a very friendly visit with the intake nurse, three x-rays with the very jovial Alex and finally a reassuring visit with the doctor. Thank you team.
---
I had an electroencephalogram (EEG) test with Kaley. She was so calming, informative and funny. She made an unknown health care experience feel like I was at the spa. I was really nervous, but she had such a great personality and I almost forgot I was in a hospital. Thank you.
---
I wish to thank Dr. Pi, the nurses and auxiliary staff at the Gastrointestinal clinic at Royal Colombian Hospital. Everyone was pleasant and helpful during my time there.
---
I am offering my compliments to nurse Santiago at Ridge Meadows. He has provided my cousin with the kindest and most professional medical care. He has been absolutely wonderful throughout his stay. Kudos to you Santiago.
---
For Abbotsford Regional Hospital
Everyone at the hospital was pleasant, kind and informative. I felt like I was in excellent hands. Thank you Sandi, George, Dr. Kim and all of the other staff who provided me with care.
---
My son entered the Abbotsford Hospital Intensive Care Unit (ICU) in critical condition. I was immediately impressed with the way the staff worked as a team. They made me feel helpful by involving me in his care. The love and compassion they showed him throughout his stay there was heartwarming. I will be forever grateful for the lengths they went to try and save him.
---
I would like to commend Hazel, a care aid in the emergency room. Hazel was extremely helpful, caring and professional. She was pleasant and cheerful while doing all she could to try to make our mom comfortable. Thank you so much Hazel for all you did.
---
For Surrey Memorial Hospital
I visited the emergency room at Surrey Memorial and was greeted by cheerful triage staff. The staff in the department were quick and efficient, and I was seen promptly. Great staff providing the best care. They receive five stars in my book.
---
I would like to compliment the great team of doctors, especially Dr. Song, nurse Yunisse and nurse Sam. They were exceptionally polite, helpful, friendly and professional. They went above and beyond providing care.
---
I would like to thank Andy the outpatient physiotherapist at Surrey Memorial. He has a way of connecting that is clear, motivating, kind, firm, educational, empowering and honest. My dad couldn't have a better therapist. Thank you.
---
For Mission Memorial Hospital
I would like to thank licensed practical nurse Kathleen who took excellent care of my son in the hospice ward. Thank you for your kindness.
---
For Langley Memorial Hospital
Want to thank the nurses in the Maternity Ward at Langley Memorial. They were so kind to my wife and newborn daughter. The care and attention we received exceeded our wildest expectations. Thank you to Abiola, Monique, Esther and all of the staff.