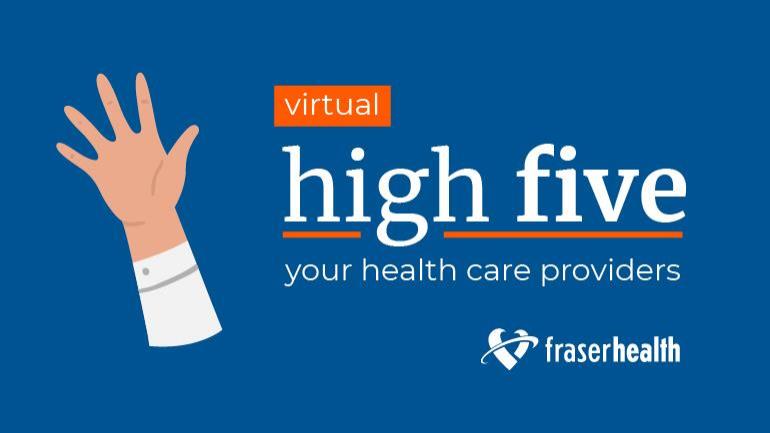 This week's high fives go to our amazing people at Royal Columbian Hospital, Sardis Satellite Laboratory, Burnaby Hospital, Ridge Meadows Hospital, Delta Home Health, CareLife Fleetwood Long-Term Care, and Chilliwack General Hospital.
Want to send a high five to your health care provider or Fraser Health team member? Leave a comment below or send your thanks using our online submission form. Read more kudos at fraserhealth.ca/highfive.
---
For Royal Columbian Hospital
I received and witnessed such compassion and kindness at Royal Columbian. Nurses Gabby and Shirley as well as Dr. Toews were gentle, patient and reassuring. I was scared and anxious and they each took the time to be unendingly reassuring. This meant so much, especially during the holidays. Thank you.
Thank you Lucy for being so accommodating and coming to get me for my blood work. This has been a difficult time for me and your help is greatly appreciated and much needed. Thanks again.
---
For Sardis Satellite Laboratory
My husband and I frequently visit this lab and every time we have a positive experience. Thank you to the staff for your great work.
---
For Burnaby Hospital
I visited Burnaby Hospital and encountered the best staff. They were professional, caring and efficient. Most notably, Dr. Vadeanu was a gem who provided excellent care. Thank you.
---
For Ridge Meadows Hospital
We lost our husband and father due to health complications. The emergency room staff were caring and compassionate and allowed us the time to say goodbye. Their kindness made a very difficult time as caring and peaceful as possible. Thank you.
---
For Delta Home Health
I really appreciate your team's help in caring for my friend. Ever since your team's first visit, you have put my mind at ease as I know he is in excellent hands. Kudos to the team for all of the great work that you do.
---
For CareLife Fleetwood Long-Term Care
We want to express our profound gratitude for the care of our family at CareLife Fleetwood. The staff are extraordinary, from senior management to the entire team. Their empathy combined with professionalism was much appreciated. Thank you.
---
For Chilliwack General Hospital
The nurses and the doctors treated me with respect and connected me with the right resources in order to get the best care needed. Thank you, I am alive and well because of you.