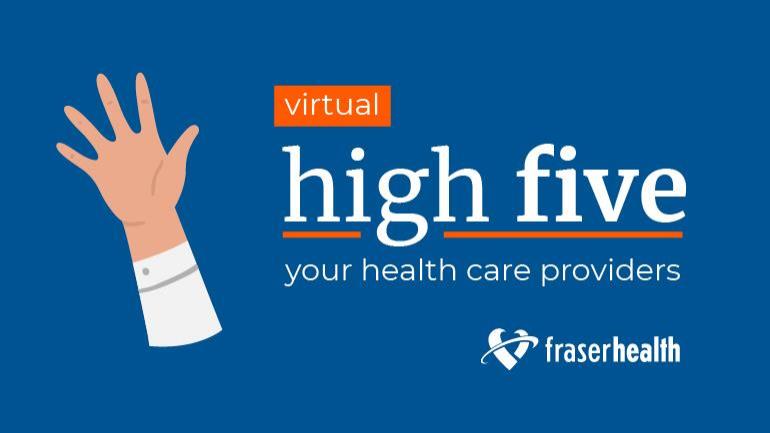 This week's high fives go to our amazing people at Abbotsford Urgent and Primary Care Centre, Burnaby Hospital, Delta Hospital, Langley Memorial Hospital, Peace Arch Hospital, Ridge Meadows Chronic Pain Management Clinic, Royal Columbian Hospital and Surrey Memorial Hospital.
Want to send a high five to your health care provider or Fraser Health team member? Leave a comment below or send your thanks using our online submission form. Read more kudos at fraserhealth.ca/highfive.
---
For Abbotsford Urgent and Primary Care Centre
This is the friendliest and most helpful clinic I have visited for urgent care. When I arrived, I was triaged to Mairin. She listened to my needs carefully and provided guidance. Joyce at the front was friendly, Lara was personable and positive and finally Dr. Oberoi was efficient. They worked together as a team and communicated well.
---
For Burnaby Hospital
One of the volunteers, Rany, was lovely to deal with. It was a great way to be greeted when entering the hospital.
---
I wanted to thank all of the medical and support staff in the Psychiatric Unit at Burnaby Hospital. They were kind, considerate and very patient in a difficult environment. It's unlikely that I would have survived without a support system like ours.
---
For Delta Hospital
I would like to thank the doctors in the Emergency Room for their positive attitude towards patients. It was appreciated.
---
For Langley Memorial Hospital
My brother and I brought my father to Langley Memorial for psychiatric assessment. Everyone was so kind and understanding from the Emergency Room clerk, to the psychiatric nurse to the doctors. So professional and lovely. We really appreciate your care.
---
Dr. Holloway did an impeccable job treating his patients in the Emergency Room. He was kind, understanding, incredibly caring and even held a sense of humour during a busy night. I witnessed his compassion as he treated several patients, including myself. He always kept note of your condition and asked as he walked by, how you were doing. Thank you Dr. Holloway for all you do.
---
I am writing to compliment Kavita. I have watched her work and she is incredible. Please thank her on behalf of patients and staff.
---
For Peace Arch Hospital
Big thank you to all the staff in emergency at Peace Arch Hospital. A special thank you to Nurses Amy, Sandie, Irene and Cassandra for helping my mother through her first visit at the hospital at the age of 104. She was very frightened to be there but they made her comfortable. I appreciate your kindness and empathetic approach during a scary time.
---
To all the admin, nurses and doctors in pre-operative and post-operative surgery who assisted me during my procedure. You were all very professional, empathetic, kind, competent and just really great humans. Thank you for your great care.
---
For Ridge Meadows Chronic Pain Management Clinic
I enjoyed the pain clinic program at Ridge Meadows. I learned a lot. Thank you for all of your help.
---
For Royal Columbian Hospital
I would like to thank Chrystal from the Surgical Unit and George from the Cardiac Unit for their great care while they accompanied me on my transfer from Royal Columbian Hospital. Chrystal was calm and attentive and went above and beyond to call my wife to give her peace of mind. Thank you.
---
Dr. Mackay went above and beyond in looking after me in the Emergency Room. His kindness and empathy went a long way in putting me at ease after a situation that potentially could have led to a serious outcome. I appreciate how thorough he was with my workup and the time and personal care he took to make sure that I was okay. Thank you Dr. Mackay for exemplifying such outstanding patient care.
---
My family would like to extend a heartfelt thank you to all the health professionals working in the Emergency Department at Royal Columbian Hospital. We brought our son to emergency and the nurses and doctors acted quickly upon our arrival and provided immediate care. They were amazing. He is now home and feeling much better. Thank you.
---
My dad was brought to the hospital after a motorcycle accident. The nurses in the Trauma Ward were absolutely amazing. Extremely professional, caring and always in a good mood.
---
Dr. Toews was knowledgeable about my rare disorder, allowing her to treat me accordingly and reducing my mental anguish. Nurses Maylene, Ferrin and Wade were so compassionate, attentive, patient and caring. I feel I was treated with care thanks to Dr. Toews. I am so very grateful to all of them – thank you.
---
For Surrey Memorial Hospital
A huge thank you to the staff who work in the Emergency Department. They were fast, efficient and compassionate. They made a stressful (thankfully not critical) situation bearable for my daughter and rapidly eased my motherly concerns. The staff were all attentive, kind and communicative and for that we are so very grateful. Thank you.
---