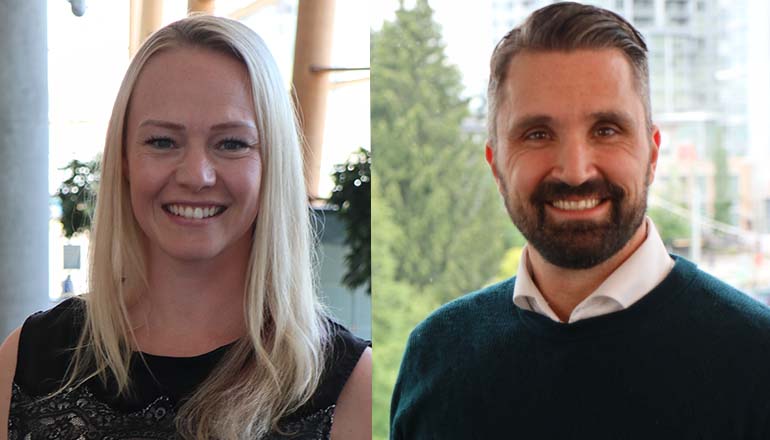 Learn how the environmentally sustainable actions of the Long-Term Care and Commercial Services teams made a global impact.
Curtis Snider from the Long-Term Care team and Morgan Cartier from the Commercial Services team are paving the way with their teams to impact planetary health endeavours.
Last fall, the Long-Term Care team secured a federal grant from the Shared Health Priorities and Safe Long-Term Care Fund to purchase beds and mattresses. The new beds offer enhanced features, including fall detection, and can accommodate residents at every level of care.
The excitement of gaining beds with enhanced features didn't stop Long-Term Care from analyzing the beds that would be replaced. Many beds and mattresses were in good condition, so they set to collaborate with the Commercial Services team looking for ways to repurpose the out-going beds.
"While replacing the beds in our Long-Term Care communities, our teams were committed to the idea of finding new homes for the still-usable beds," says Curtis Snider, director, Capital and Equipment Planning, Seniors, Community and Complex Care. "I contacted the Commercial Services team to see how they could help."
The Commercial Services team immediately started looking for health care facilities in need of donations of beds and mattresses and found organizations accepting medical donations for shipment overseas.
"We didn't want to spend money on discarding beds when we knew someone in need could use them," says Morgan Cartier, contract manager, Waste Management. "Donating health care equipment is sustainable for the environment and allows us to support health care initiatives in conflict areas and developing countries."
The donations were made possible by a partnership with Burnaby non-profit Rotary World Help and Korle-Bu Neuroscience Foundation, which focuses on enhancing West Africa's health care.
Working with these organizations, the Commercial Services team loaded hundreds of beds and mattresses into shipping containers to be sent overseas alongside other medical equipment.
In the past six months, 299 beds and 256 mattresses were sent to Ukraine, Liberia, Sierra Leone and Nigeria.
Due to the ongoing war, beds sent to Ukraine are intended for humanitarian aid. Beds in Liberia and Sierra Leone will go to clinics, hospitals and health centres throughout the countries and two dozen beds in Nigeria will be used in a teaching hospital.
"It feels great knowing that our team got to find a new home for the beds and mattresses," says Meagan Campbell, analyst, Commercial Services. "It's amazing to know that our work is creating a positive impact for planetary health, global health care and helping those in need."