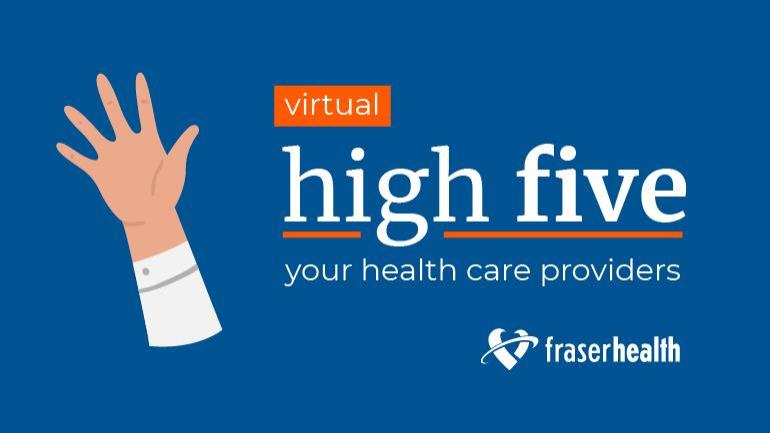 This week's high fives go to our amazing people at Abbotsford Regional Hospital, Burnaby Hospital, Eagle Ridge Hospital, Jim Pattison Outpatient Care and Surgery Centre, Ridge Meadows Hospital, Royal Columbian Hospital and Surrey Memorial Hospital.
Want to send a high five to your health care provider or Fraser Health team member? Leave a comment below or send your thanks using our online submission form. Read more kudos at fraserhealth.ca/highfive.
---
For Abbotsford Regional Hospital
I would like to thank Dr. Kerr and the nurses for the excellent care they provided my father while he was in hospital. Although he was not doing well, the comfort and love they gave was exactly what we needed. Dr. Kerr, thank you again for caring for my father.
---
I would just like to extend a thank you to the intake staff, the triage nurse, the nurses and the doctor at Abbotsford Regional [Hospital] for their quick and timely action in caring for my daughter's injury. It's not only our care I want to highlight, but the Emergency Department staff's patience and compassion I observed for all the patients in the department. Great job team.
---
My grandmother was admitted to the Intensive Care Unit (ICU) at Abbotsford Regional [Hospital]. It was there that we encountered exceptional staff. Thank you to Prabh, Raman and Soojata who provided not only outstanding care but went above and beyond to provide comfort while reaffirming my grandmother's sense of identity.
---
For Burnaby Hospital
I recently had rectal cancer surgery and wanted to send my gratitude to the amazing staff who helped me through my procedure. Firstly, Dr. Hsu and Dr. Cho who were professional, organized and efficient while also being kind and funny. Thank you to Katie and Alexis who warmly welcomed me into the Operating Room, to Renata in Post-Operative and Peter the porter. Finally, thank you to Nurses Joy, Joanne, Shanu and Tiffany for being warm, joyful and always anticipating what I needed, before I needed it.
---
I want to express my gratitude to Emergency Room Physician Dr. Vadeanu. I was admitted to Burnaby Hospital for chest pain and breathing problems. Dr. Vadeanu quickly acted and ordered all of the necessary tests and scans to determine my illness. He even called me at home to check in on my recovery. I am now scheduled for surgery to rectify my illness. I am grateful for his efficient, compassionate care.
---
For Eagle Ridge Hospital
I had an exceptional experience during my bilateral hernia surgery. Thank you to Dr. Konkin for his down to earth, caring bedside manor and Dr. Tung, who was pleasant, informative and caring. A big thank you to Nurses Jodi, Lisa, Leah and Sandy for simply being the best.
---
For Jim Pattison Outpatient Care and Surgery Centre
I visited Jim Pattison Outpatient Care and Surgery Centre for an ultrasound. Dr. Andrew was incredibly caring and smart. While my husband and I were very tense and nervous, Dr. Andrew calmly reassured us by explaining in detail the ultrasound images. Thank you Dr. Andrew for your excellent care.
---
I always receive the best care whenever I visit for testing and mammograms. Procedures are explained thoroughly and any questions I have are answered in a clear and concise way. Thank you to all the staff.
---
For Ridge Meadows Hospital
Thank you to Nurse Paul in the Intensive Care Unit (ICU) who provided professional, compassionate and kind care to us and our family member who passed. He had such a positive impact on us, particularly in such a heartbreaking moment. Words cannot describe how grateful we are that you were the nurse that day. All the best to you.
---
For Royal Columbian Hospital
I want to give a shout-out to Dr. Mike and Nurse James in Pediatric Emergency. They were both so kind and informative. They both spoke to us in a way that felt genuine and that they cared about our son's wellbeing. It was a wonderful breath of fresh air. Thank you to them for making our experience so positive.
---
I would like to thank Nurse Claire for the amazing care she and her team provided to my mother. The reception staff and other nurses were really helpful, polite and considerate. Although my family was going through a rough time, we had a wonderful experience.
---
For Surrey Memorial Hospital
My daughter brought my grandson to the Emergency Department because he was having difficulty breathing. The nurses, doctors and technicians did an amazing job at providing care and keeping my daughter calm. Exceptional work from amazing people.
---
Thank you to Megan at Charles Barnham Pavilion for her articulate, empathetic, knowledgeable and validating care. She's a great asset to the team.
---
I recently was brought to the Emergency Department via ambulance. I was treated quickly by wonderful, knowledgeable doctors and nurses. Hats off to the team.
---
My mother was brought into the Emergency Department for serious, complex health issues. I really appreciated the care she received. I want to thank Nurse Molie and Dr. Ghuman. They did everything they could to treat my mother while being extremely polite, considerate and helpful. Thank you.
---