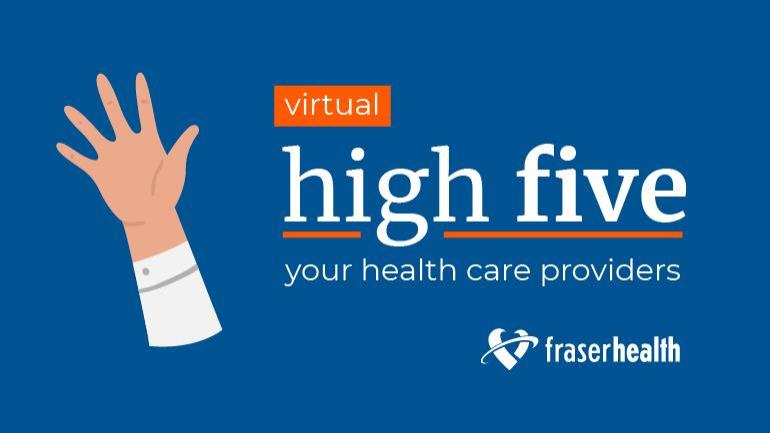 This week's high fives go to our amazing people at Abbotsford Regional Hospital, Burnaby Hospital, Eagle Ridge Hospital, Jim Pattison Outpatient Care and Surgery Centre, Langley Memorial Hospital, Royal Columbian Hospital and Surrey Memorial Hospital.
Want to send a high five to your health care provider or Fraser Health team member? Leave a comment below or send your thanks using our online submission form. Read more kudos at fraserhealth.ca/highfive.
---
For Abbotsford Regional Hospital
Nurse Amanda from Surgical Day Care was amazing. She kept our spirits up with her positive attitude and outgoing energy. She was approachable and promptly answered all our questions. My mom and I can't thank her enough and wish her all the best. Thank you again.
---
For Burnaby Hospital
Thank you to the Burnaby Hospital ambulance crew, volunteer Allan, Dr. Clark, Nurse Victoria, Dr. Basco, Nurse Clinician Kathy and the palliative care doctors. I'd also like to thank Nurses Max, Olena and Miriam. We appreciated the great care and kindness given to our family and our mother in her final days.
---
For Eagle Ridge Hospital
I visited Eagle Ridge [Hospital] for a day procedure. I received incredible care from all the staff I encountered including, volunteers, nurses and Dr. Konkin. I appreciated that they took the time to explain my procedure and provide help when needed. I was very impressed and cannot thank everyone enough. You are all number one in my books.
---
A huge thank you to Dr. Melich and Cher for their kindness and care during my day surgery. Their direct and helpful information before surgery and follow up after was appreciated. Thank you so much. I am really grateful for the work that you do.
---
For Jim Pattison Outpatient Care and Surgery Centre
Both Sheri-lynn and Maya were amazing. They truly care about their patients and made the experience much more comfortable. They are the most amazing nurses I have ever come across – they are the best.
---
For Langley Memorial Hospital
When I bought my sick child to the Langley Memorial Hospital Emergency Department the staff was very helpful and pleasant. We didn't feel rushed and the doctors were able to diagnose the problem. I am so thankful to the staff, doctors and X-ray and lab technicians who helped treat my child. She had an amazing experience and is feeling much better.
---
My husband was recently admitted to the Langley Memorial Hospital Emergency Department. He was triaged and admitted within minutes of arriving and was then promptly seen by the attending doctors and nurses. He received great, immediate and professional care and treatment which allowed him to be quickly discharged. Thank you to the wonderful professionals who took care of him.
---
For Royal Columbian Hospital
I recently had surgery at Royal Columbian [Hospital]. All of the staff were wonderful, attentive and caring. Even though they were busy they still found time to care and share a smile. It did not go unnoticed. Thank you all.
---
Thank you to Nurse Sadie for being an amazing, compassionate individual. She was understanding and kind. I'll never forget the compassionate care she provided.
---
For Surrey Memorial Hospital
My son and I visited the Surrey Memorial Hospital Pediatric Emergency Department because of an injury to his face. We were promptly attended to and my son left in good spirits. The staff were friendly and the doctor had excellent bedside manner. I was very impressed with how fast we were tended to. Thank you.
---