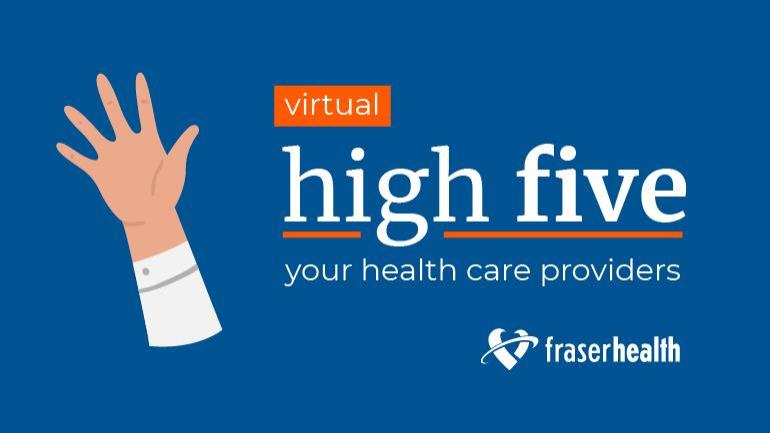 This week's high fives go to our amazing people at Abbotsford Regional Hospital, Burnaby Hospital, Eagle Ridge Hospital, Jim Pattison Outpatient Care and Surgery Centre, Langley Memorial Hospital, Royal Columbian Hospital and Surrey Memorial Hospital.
Want to send a high five to your health care provider or Fraser Health team member? Leave a comment below or send your thanks using our online submission form. Read more kudos at fraserhealth.ca/highfive.
---
For Abbotsford Regional Hospital
I would like to thank Nav and all the physiotherapists from the Outpatient Physiotherapist team. Nav created a treatment plan that kept me on the right track and helped me recover successfully from surgery twice. Thanks again to everyone.
---
For Burnaby Hospital
Ashlyn in the laboratory is the most organized, patient and skilled staff member I have encountered. Even though I didn't have an appointment, she remembered my name. I have visited the lab many times this year and Ashlyn has always been a breath of fresh air. Thank you Ashlyn.
---
Thank you so much Dr. Gracias for treating my neck pain. Without you I don't know what I would have done. I am very grateful, your treatment has helped my pain significantly.
---
A huge thank you to Dr. Melich and Cher for their kindness and care during my day surgery. I appreciated their direct and helpful information before surgery and follow up after the procedure. Thank you so much. I am really grateful for the work that you do.
---
For Delta Hospital
I visited Delta [Hospital] for a procedure and was impressed with the first-class care I received from the attending doctor and staff. They were efficient, caring and very pleasant. They made the procedure more enjoyable. Thank you.
---
I recently had a colonoscopy at Delta [hospital] and would like to thank the staff for providing a great experience at every step throughout the procedure.
---
For Eagle Ridge Hospital
Dr. Beheshti gets my kudos for his in-depth explanation of my partner's heart monitor results. The receptionist Leanne was a big help in organizing my visit and rescheduling the Handy Dart when there was a delay in the exam room. Thank you for the attentive and thoughtful care.
---
I visited the Eagle Ridge [Hospital] Emergency Department with what I suspected were the signs of a mild stroke. The care I was received was nothing short of amazing. I would like to thank Dr. O'Riordan for the excellent care and Lia for being super nice and helpful. Kudos to all.
---
For Jim Pattison Outpatient Care and Surgery Centre
I would like to thank Occupational Therapist Victor for the excellent advice and for the time he took to explain my medical condition and impending surgical procedure. He made me feel calm, heard and seen. Thank you for the excellent experience.
---
For Langley Memorial Hospital
I visited Langley Memorial [Hospital] for hernia surgery. Dr. Mclennan provided quick, professional care while nurses Gurleen, Christina, Eliza, Maria and Sara were professional and compassionate. Thank you all.
---
For Ridge Meadows Urgent and Primary Care Centre
Thank you to Dietician Amanda who provided excellent diet advice to help with my cholesterol. She was very attentive and patient. I appreciate how she made me feel comfortable and offered further follow up if I had any additional questions.
---
For Surrey Memorial Hospital
I brought my 16-week-old infant to the Pediatric Emergency Department due to a respiratory issue. All the doctors and nurses I encountered were amazing. I was really impressed with the care we received and how thorough the staff were. We were seen quickly and all my questions were answered promptly. Thanks to the emergency room team for the great care.
---
I would like to thank the amazing team who looked after me. I came to Surrey Memorial Hospital's emergency department and was seen by the triage RN and then Sean, an RN who swiftly did an electrocardiogram and lab work. He provided me with the reassurance I needed regarding my condition. I was then seen by Dr. Shane and a cardiologist, Dr. Bhagirath. They provided my husband and me information regarding my status and told me I was going to be admitted…The exemplary care continued on the cardiac ward, while I patiently waited for many of the different procedures to be completed. I felt connected to the team, while dealing with boredom and anxiety of waiting to find out the cause and diagnosis of my condition.
---