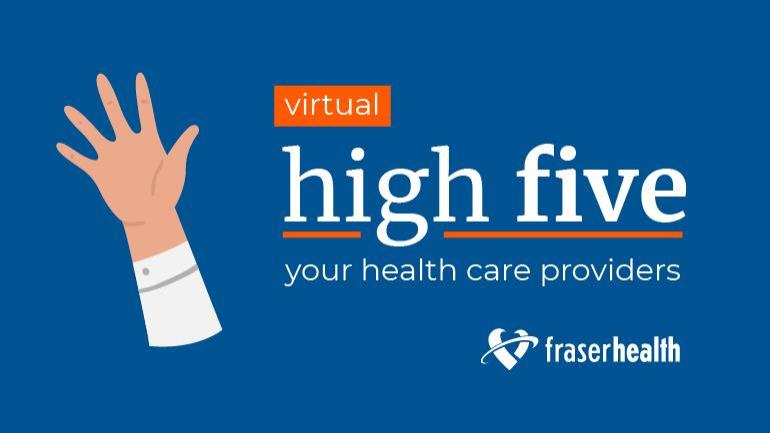 This week's high fives go to our amazing people at Burnaby Hospital, Chilliwack General Hospital, Delta Hospital, Eagle Ridge Hospital, Jim Pattison Outpatient Care and Surgery Centre, Langley Memorial Hospital, Peace Arch Hospital, Royal Columbian Hospital and Surrey Memorial Hospital.
Want to send a high five to your health care provider or Fraser Health team member? Leave a comment below or send your thanks using our online submission form. Read more kudos at fraserhealth.ca/highfive.
---
For Burnaby Hospital
Thank you to Nurse Connie who showed dedication and compassion and to Dr. Lee who provided great care. I appreciated how all the staff went above and beyond to ensure I received help when I needed it. The whole team made it possible for me to be able to write this high five. Thank you all from the bottom of my heart.
---
Thank you to Dr. Gracias and Nurse Connie for their excellent care.
---
For Chilliwack General Hospital
I would like to commend the efforts of Patient Ambassador Charlotte, Nurse Gina, Nurse Jessica and Dr. Gant. From the moment I arrived, Charlotte's warm and compassionate demeanor provided an immediate sense of comfort and reassurance. The clinical skills of Dr. Gant, Nurse Gina and Nurse Jessica combined with their genuine kindness and patience was instrumental in making me feel valued as a patient.
---
I have had surgery twice at Chilliwack General [Hospital] and both times were a great experience. The staff are always good-natured and patient. Everyone from the nurses, doctors and the anesthesiologist were helpful and pleasant. Thank you all.
---
Recently, my husband and I visited the Emergency Department at Chilliwack General [Hospital]. The doctor, Nurse Kylie, and all the other staff provided great care throughout our visit. We thank them for their wonderful care.
---
For Delta Hospital
I would like to commend and thank all staff who cared for me during my recent medical procedure. Absolutely everyone from check in to check out were professional, attentive and caring. Once again my big thanks to all the staff involved. Cheers.
---
For Eagle Ridge Hospital
Thank you to Sasha and Tori for their exceptional professionalism. They put me at ease quickly and I felt cared for from start to finish. Thank you to this excellent team.
---
For Jim Pattison Outpatient Care and Surgery Centre
Thank you to the staff, medical staff and doctors who provided the best care during my medical procedure.
---
Thank you to Nurse Maya who was excellent at inserting the IV and provided exemplary care while looking after her patients. She went above and beyond with care, kindness and understanding.
---
For Langley Memorial Hospital
Thank you to Recreational Therapist Lindsay who has been an encouragement in getting me out of the house and participating in the community. Thank you for your guidance and care in my recovery.
---
I recently visited Langley Memorial [Hospital] for a surgical procedure. I was very nervous but all the staff were so kind. From the minute I arrived I was greeted with warm smiles. I wanted to give a special thank you to Nurse Michelle in Surgical Day Care. She was compassionate and comforting. Thank you everyone.
---
For Peace Arch Hospital
Thank you to the staff at Peace Arch [Hospital] for your genuine kindness to me and my daughter. I really wanted to share my gratitude and say thank you for your care.
---
For Royal Columbian Hospital
I recently had an angiogram performed at Royal Columbian [Hospital]. From check-in to the prep, the procedure and then recovery, the staff were more than accommodating. Everyone was professional and made me feel I was in the best of hands. Thank you for making a stressful situation better.
---
Thank you to the attending doctor and two nurses who treated my three year old son. The doctor was so kind and patient. One nurse was very gentle, while the other nurse gave my son a popsicle. Thank you.
---
For Surrey Memorial Hospital
We were recently seen by a doctor for a laceration on my five year old's eyebrow. We were seen quickly and the doctor was amazing. I wanted to thank the doctor who personally called me up about a week later to check in and see how my son was doing and if I had any questions. I'm very impressed by my experience at Surrey Memorial Hospital Pediatric Emergency Department.
---
Thank you to Nurse Narinder who was a light in an otherwise stressful situation. You made a world of difference and it meant the world.
---