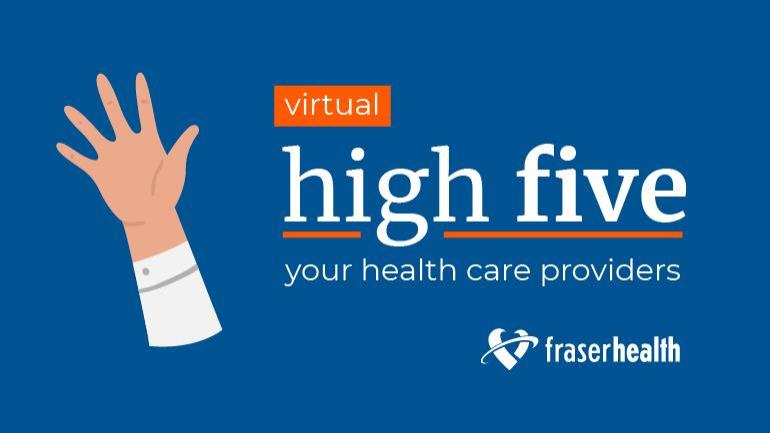 This week's high fives go to our amazing people at Abbotsford Regional Hospital, Eagle Ridge Hospital, Jim Pattison Outpatient Care and Surgery Centre, Langley Memorial Hospital, Peace Arch Hospital, Ridge Meadows Hospital, Royal Columbian Hospital and Surrey Memorial Hospital.
Want to send a high five to your health care provider or Fraser Health team member? Leave a comment below or send your thanks using our online submission form. Read more kudos at fraserhealth.ca/highfive.
---
For Abbotsford Regional Hospital
I am writing to express my thanks to the Emergency Department staff at Abbotsford Regional Hospital who helped me so quickly and effectively. Everyone I encountered was kind and the medical care was outstanding. I am very grateful, thank you.
---
For Eagle Ridge Hospital
My mom was recently brought into the hospital and I wanted to share how truly outstanding the staff, medical staff, patient ambassador and volunteers were.
Thank you to Nurses Kay, Lillian and Maro, as well as Dr. Sean, Dr. Wong and Dr. Gooderham. A huge thank you to Housekeeper Deborah, who helped me the first day by stepping away from what she was doing to walk me to the Emergency Department. Everyone was compassionate, kind, knowledgeable and respectful. Everything was explained to us, step by step. We were checked in on often and we both felt clear and connected to what was going on. Dr. Gooderham even phoned me the morning after my mom passed to send condolences. Simply amazing.
I am forever in their debt. My mom passed peacefully, without suffering, knowing she was loved and cared for. Thank you.
---
I recently visited the Eagle Ridge Emergency Department with symptoms of a suspected mini-stroke. From the minute I arrived the staff were incredible. I was seen promptly and within a few minutes I had a myriad of tests and was treated wonderfully throughout the whole process. I would especially like to thank Dr. O'Riordan and Lia who were amazing. Thank you.
---
For Jim Pattison Outpatient Care and Surgery Centre
Thank you to the fantastic staff who took very good care of me. At one point, I got the chills while waiting and a nurse gave me a warm blanket. Five star service. Thank you.
---
For Langley Memorial Hospital
We have been in and out of the Langley Memorial Hospital Emergency Department for two weeks now due to a second degree burn on our infant. Every time we go to have our burn dressing redone we are seen by Nurse Roberta. She has provided us with the best care I have ever experienced in a hospital setting. The continuity we have received from her is truly incredible.
---
For Peace Arch Hospital
I recently visited Peach Arch Hospital for a procedure. Nurses Kay and Magda were great. They were patient, fun, caring and made sure I was comfortable. Thank you.
---
I recently underwent a surgical procedure and wanted to thank absolutely everyone from Dr. Hoyda to all of the surgical staff and nurses. Every single one of the staff and medical staff caring for me were amazing. I can't thank all of these folks enough for their caring professionalism during such a stressful time. Thank you all for your amazing work, it is so appreciated.
---
For Ridge Meadows Hospital
I recently spent two days at Ridge Meadows Hospital for a surgical procedure. From first contact at admitting through to pre-operative, surgery, recovery and an overnight stay, I was greeted by positive and friendly staff. I was treated with respect and was provided with the best care and compassion one could ever hope for. Thank you sincerely.
---
For Royal Columbian Hospital
I'd like to commend Krizel, Suby and Bobby for being the most kind, professional and caring nurses our family has encountered. They all deserve to be recognized for their warm hearts, caring nature and professionalism. They were shining stars. Thank you.
---
I'd like to send a high five to Suby. Her kindness and compassion has helped make a very stressful and scary time as comfortable as possible. She is a huge asset to the hospital and I can't express enough how grateful I am when I see her smiling face.
---
Thank you to the incredible Emergency Department staff at Royal Columbian Hospital. The swift and gentle care provided by all during our visit was greatly appreciated. Particular thanks to Nurse Ivy and Dr. Taylor, the admitting triage nurse and doctor. We are grateful for your aid.
---
For Surrey Memorial Hospital
My child was admitted to Surrey Memorial Hospital with serious pain and ended up needing emergency surgery. All of the staff and medical staff in the Pediatric Emergency Department provided absolutely amazing care for my child in pain. Thank you to Courtney, who was exceptional. I will never forget your kindness and care. Many thanks.
---
My family and I would like to send our heartfelt appreciation and gratitude to the staff and medical staff who took care of my father. He has recovered and healed well due to their care. Special thanks to Bernadette who was a true angel as well as Gurlin, Dr. Toor, Dr. Khan and Dr. Warrington.
---
Thank you to Marlene at the Information Desk. I had 'misplaced' my car in the parking lot when dropping off my wife for a surgical procedure and Marlene went out of her way to help me find it. She went way beyond the call of duty and should be commended. Marlene is a star.
---