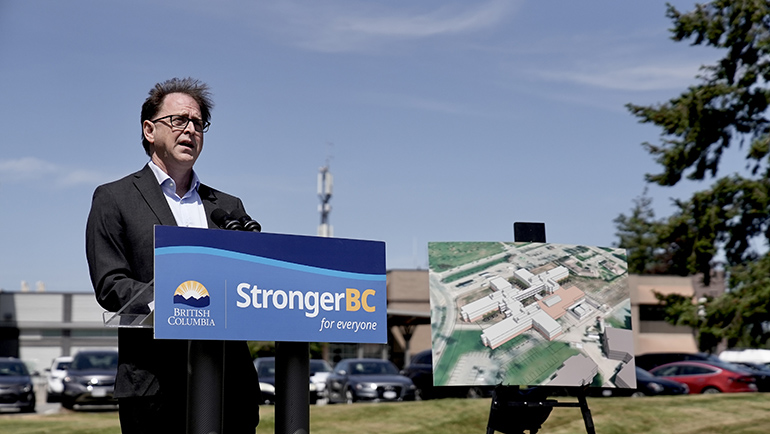 More people in Delta and surrounding area will have access to high quality long-term care as Fraser Health prepares to build a new care community with 200 beds.
"Ensuring seniors across B.C. have confidence that when they age, they will receive care services that will allow them to stay healthy, active and safe in their community is a priority for our government," said Adrian Dix, Minister of Health. "That's why we continue to take meaningful action and invest in care homes, like the one in Delta, to ensure people have access to home like care in the community."
Fraser Health will construct and operate the long-term care community on vacant land at the Delta Hospital site. The project is in the procurement phase with construction expected to begin in 2025 and be complete in 2027. During the design phase, First Nations will partner with Fraser Health to design a culturally safe care home.
The new care homes will replace the 92 beds at Mountain View Manor, which is 46 years old, and add 108 new beds. The facility will be designed as "households" accommodating 12 or 13 residents. Each resident will have a single-bed room with a bathroom.
The new facility will include the social and recreational spaces found in a typical home, such as a living room, dining room, activity space and access to the outdoors. As well, an innovative stand-alone child daycare facility will be constructed and offer 49 spaces for families.
"Our unwavering commitment to meeting the evolving health care needs of our residents is exemplified by the forthcoming long-term care home in Delta," said Dr. Victoria Lee, president, Fraser Health. "Through partnerships with the Delta Hospital and Community Health Foundation, as well as Indigenous, community and provincial stakeholders, we are taking significant strides to enhance the well being of our aging population. This endeavour not only reflects our steadfast dedication to delivering exceptional care services, but also fosters healthy intergenerational connections within our community."
This new care community model takes lessons learned during COVID-19 into account with designs using the new best practice infection control standards and improves pandemic resiliency while being culturally sensitive to serve a diverse population.
"Seniors in Delta are a vital part of their communities, and as they age, we must ensure seniors have access to the health care services they need and deserve," said Ravi Kahlon, MLA for Delta North and Minister of Housing. "Long-term care should be a home away from home – and that's exactly what this investment is about. We're making sure seniors in Delta have access to the right care and services in spaces designed for them, close to their loved ones."
There will also be community spaces and services for residents, families, visitors and staff, including art and activity rooms, a hair salon, a sacred space and a 32-space adult day program for people living more independently.
The capital costs are funded with $179.7 million from the Ministry of Health. The care community will be constructed, owned and operated by Fraser Health. The Delta Hospital and Community Health Foundation has also committed to raise $18.5 million for the project.
To meet growing demand over the past five years, government has invested approximately $2 billion to expand and improve quality care for seniors in British Columbia, including investments in primary care, home health, long-term care and assisted living.

Quotes:

Harwinder Sandhu, Parliamentary Secretary for Seniors' Services and Long-Term Care –
"As communities continue to grow and populations age, people want to know they will have access to quality long-term care services close to their loved ones. The new long-term care home in Delta will offer residents a vibrant, home like environment where they can continue to live with dignity."

Lisa Hoglund, executive director, Delta Hospital and Community Health Foundation –
"Delta's seniors are the very heart of our community. Their hard work and generous spirit have made Delta what it is today. Delta Hospital and Community Health Foundation is honoured to be partnering with Fraser Health to deliver a state-of-the-art long-term care community. Our foundation has committed to raise $18.25 million toward this project – the largest fundraising campaign in our 35-year history. This will be extremely meaningful for our community as we partner to transform seniors' care in Delta."

Quick Facts:
The Delta Hospital is located at 5800 Mountain View Blvd.
Long-term care communities provide care and supervision for people with complex-care needs, who can no longer live safely and independently at home, through a range of services delivered by well trained, compassionate and caring staff.