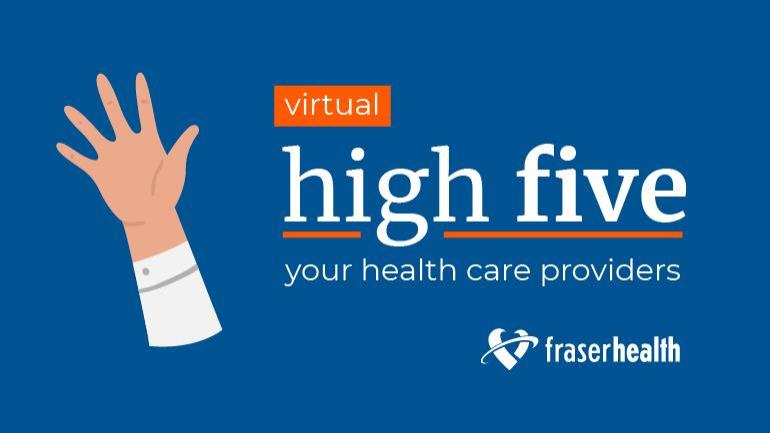 This week's high fives go to our amazing people at Burnaby Bonsor COVID-19 Immunization Centre, Burnaby Hospital, Chilliwack General Hospital, Delta Hospital, Eagle Ridge Hospital, Jim Pattison Outpatient Care and Surgery Centre, Langley Memorial Hospital and Royal Columbian Hospital
Want to send a high five to your health care provider or Fraser Health team member? Leave a comment below or send your thanks using our online submission form. Read more kudos at fraserhealth.ca/highfive.
---
For Burnaby Bonsor COVID-19 Immunization Centre
Thanks to all the staff at Bonsor COVID-19 Immunization Centre. You are doing an amazing job and the community is forever grateful for your hard work and dedication.
---
For Burnaby Hospital
I visited Burnaby Hospital for my first phlebotomy procedure. Katherine in Community Outpatient Services was great. Even though I was afraid, she put me at ease by explaining the process. She went above and beyond to ensure that I was comfortable throughout the procedure. Once it was done, she insisted I rest and stayed with me until the time had passed. I want to thank her for her dedication, care and attention. I was blown away by her committed care. Thank you Katherine.
---
For Chilliwack General Hospital
Back in December, I received IV therapy for antibiotic treatment at Chilliwack General Hospital. I now wish I had written down the names of all the wonderful nurses that were so kind and gentle to me throughout those treatments.
In January, I came down with pneumonia, and had to return by ambulance to the hospital. It was an extremely busy time for all… [but] I could see how the nurses, doctors, and all the other workers scurried around to keep everyone settled and well-looked after.
I spent over a week eating, sleeping and being cared for by a further group of amazing nurses - each one as pleasant as the last.
Finally it was time to go home, and I said my goodbyes to the group, but that was not the end of my care. From there, Fraser Health stepped up to make sure I was going to be able to cope once I got home. I was sent a nurse twice a day to make sure I was up and dressed, eating properly and coping well. Luckily, I recovered quickly, and no longer needed support, so we cancelled the nurses' visits to allow them to tend to someone more in need.
I cannot tell you how impressed I was / am at the level of service and care I received - as a hard of hearing, somewhat sassy, 93 year old senior - both at the hospital, and by Fraser Health once I had returned home. My experience with Fraser Health far exceeded any and all expectations I may have had.
Thank you Fraser Health, Chilliwack [General] Hospital doctors, nurses, and support staff for being there, working all those hours, doing extra shifts, and still being so caring and positive for those in need. You really are super-heroes in my books.
---
For Delta Hospital
My senior brother was in Surgery Day Care for a colonoscopy. He has developmental disabilities with complex health issues which made the situation challenging. The staff, volunteers and doctors were extremely understanding, helpful and went the extra mile to help him through the experience. We cannot say enough good things about them all, and want to acknowledge their efforts and support. Thank you.
---
For Eagle Ridge Hospital
I visited Eagle Ridge [Hospital] for an ultrasound and I wanted to share how fantastic the technicians were. I have had a lot of ultrasounds and overall greatly dislike them. However, both technicians I saw were wonderful and made me feel very comfortable and supported. Please pass along my thanks.
---
For Jim Pattison Outpatient Care and Surgery Centre
I want to acknowledge the knowledge, care and compassion of Anne. I needed an X-ray, Electrocardiogram (ECG) and 24-hr monitor. Unfortunately, I was missing some of the paperwork for these procedures. However, Anne went above and beyond to help, even phoning my doctor to ensure I was able to receive the appropriate tests that day.
---
For Langley Memorial Hospital
I visited the emergency department with what I thought was a broken finger. I was pleasantly surprised with how efficiently the department ran. All within two hours I was given an X-ray and then received follow-up from a doctor. Thank you.
---
For Royal Columbian Hospital
The Neurology team, Dr. Kaderali, Adrianna, Maria, Mervin and other staff were amazing during a recent emergency stay. They made sure I was well cared for and walked me through some serious pain with compassion and kindness. They were a fantastic team and it made my unexpected stay much smoother.
---
For Royal Columbian Hospital
Nurse Jaydon, Sharie and Bereket took such good care of me during an emergency and unexpected stay at Royal Columbian [Hospital]. I was shown such compassion and support during my stay. Anita was also a rockstar, making sure I had whatever I needed during my stay.
---
For Royal Columbian Hospital
Dr. Green in the emergency department was friendly and professional. He took the time to explain to me my health condition, the treatments I can do and how to better manage it. I really appreciated the time he took to help and educate me. Thank you.
---
For Royal Columbian Hospital
I cannot thank Nurse Sarah and Dr. Toews enough for their amazing care and compassion when I visited the emergency department. I was in a lot of pain and Sarah recognized the same pain in an injury she had previously. I was given a space to rest and Dr. Toews kept in touch and was quick to refer me to neurology. I seriously cannot thank them enough.
---
For Royal Columbian Hospital
Dr. Ubhi and Dr. Waterman were amazing not only at what they do but also with comforting and educating me. The anesthesiologist was great and so supportive throughout my c-section. All the nurses in Labour and Delivery were extremely supportive and patient. Nurse Keeley and Joy went above and beyond to make sure I was cared for and listened to. Many, many thanks to them. Nurse Bless was also excellent. Thank you team.
---
For Surrey Memorial Hospital
Thank you to Rosy in Surgical Admissions. She was so calm and warm. It made me feel so much more at ease.
---
For Surrey Memorial Hospital
I would like to thank all doctors, nursing and supporting staff for giving me incredible care and helping me to get back on my feet again. Thank you to Nurses Pradeep, Iris, Lynn and others including Nursing Students Yvana and Lovely who took care of me. You are all excellent. Thank you.
---
For Surrey Memorial Hospital
A big thank you to Julie, the student who was helping out at the Children's Centre. She stayed with my daughter and kept her distracted the whole time. She is a wonderful person. I wish her the best of luck.