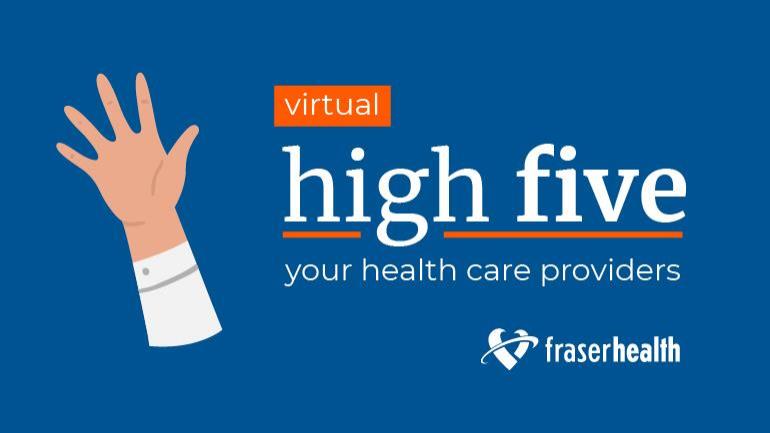 This week's high fives go to our amazing people at Burnaby Hospital, Langley Memorial Hospital, Surrey Memorial Hospital, Royal Columbian Hospital, North Surrey Public Health Unit, North Delta Public Health Unit, Community Mental Health Abbotsford and Delta North Mental Health and Substance Use Centre.
Want to send a high five to your health care provider or Fraser Health team member? Leave a comment below or send your thanks using our online submission form. Read more kudos at fraserhealth.ca/highfive.
---
For Burnaby Hospital
I would like to send my thanks to Dr. Fairbairn and the nursing staff for their professional, kind and attentive care while taking care of my mother. She is recovering well and is grateful for the care she received.
---
For Langley Memorial Hospital
Thank you to the nurse who assisted Dr. Vu during my procedure. I appreciated how caring and comforting they were.
---
For Surrey Memorial Hospital
I would like to thank the staff for their kind and efficient care. I came in to the hospital and was treated as soon as possible. Dr. Cheyne and the nurses were really friendly and made me feel comfortable and safe.
---
For Surrey Memorial Hospital
I would like to extend my gratitude on behalf of my grandmother who recently stayed at Surrey Memorial. Everyone she encountered at the hospital was so nice, from the nurses, to the doctors, to the cleaning and food service staff. They made a difficult situation so much better with their compassion and dedication. We are both truly grateful.
---
For Royal Columbian Hospital
I had an appointment at the Royal Columbian Hospital Blood Lab today and met Nora who was personable and helpful. I appreciated how patient and caring they were with my blood test requisition. Laney was also very understanding and helpful. Many thanks to the both of them for making my day easier. The hospital and its patients are lucky to have such caring individuals working at the lab.
---
For North Surrey Public Health Unit
I received my tetanus booster at the North Surrey Public Health Unit and all the staff were wonderful. I felt safe, comfortable and heard with the nurse who made it more than a simple tetanus booster. She also took the opportunity to make sure other aspects of my health care were being met. She was super friendly and it was the highlight of my day.
---
For North Delta Public Health Unit
Public Health Nurse Harvir was very patient in giving me my immunizations. Aside from her giving the vaccines flawlessly, she also talked to me during the immunization to distract me. She described the immunizations and their benefits to me, and allowed me to take time to breathe and chat before I got my vaccines despite being quite busy. Thank you Harvir.
---
For Community Mental Health Abbotsford
I just wanted to say thank you. I just finished the Rapid Access Group (RAG) with Misty and Lorraine. First off, Misty and Lorraine did an amazing job in facilitating the group. They are very skilled caregivers, facilitators and educators. They both did an incredible job at setting the tone of mental health learning. Well done. Thanks for running the program.
---
For Delta North Mental Health and Substance Use Centre
I have had several counselling sessions with Semone and she is by far the most skillful counsellor I have ever communicated with. Her validation of my emotions and counsel regarding effective methods of dealing with the issues and the accompanying anxiety is beyond helpful. Among other skills, she has taught me mindfulness, validation and radical acceptance. I am so grateful for her.
---