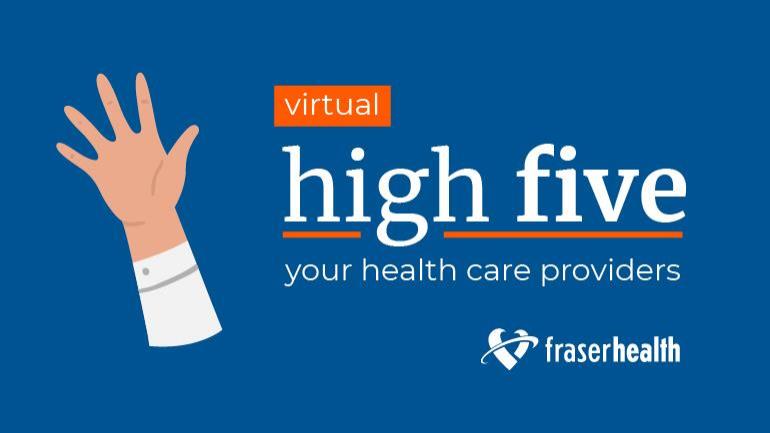 This week's high fives go to our amazing people at Burnaby, Chilliwack General, Langley Memorial, Ridge Meadows, Royal Columbian, and Surrey Memorial hospitals as well as the North Delta Public Health Unit.
Want to send a high five to your health care provider or Fraser Health team member? Leave a comment below or send your thanks using our online submission form. Read more kudos at fraserhealth.ca/highfive.
---
For Burnaby Hospital
We would like to highly commend the staff at the Burnaby Neonatal Intensive Care Unit (NICU) for the attention and care our preterm son received. They are exemplary of the type of dedication and compassion any parent would want for their child. They were so helpful to us as parents navigating the journey. We'd particularly like to recognize Sook, Cristine, Celia, Uppnit, Gurpreet and Julia.
---
For Chilliwack General Hospital
Two years ago I was in rough shape, mentally and physically with multiple overlapping health issues. Dr. Gredanius took extra time in a busy emergency room to review why I'd been returning to the emergency room so frequently. Dr. Gredanius referred me to Graduated Care and gave me solid advice. That day was a turning point for my health. I am in good health now, and it started with his extra care.
---
For Langley Memorial Hospital
The nurses and doctors on the maternity unit are so professional, caring and hard-working. They go above and beyond to help care for newborns and mums. We had a short stay in the nursery and the care was exceptional. Thank you for taking such excellent care of us and making our adjustment smooth.
---
Thank you to Dr. Ng and the entire surgical and surgery recovery team. They made a huge difference to my partner and me as we grieved the loss of our pregnancy and endured the pain of a miscarriage. There was no shortage of care and compassion. Thank you.
---
For North Delta Public Health Unit
I received a tetanus vaccination at the North Delta Public Health Unit. The nurse that administered my shot was a credit to her profession. She was polite, knowledgeable and most certainly professional. She exemplified "care". Job very well done and thanks for the extra effort.
---
For Ridge Meadows Hospital
I had the unfortunate luck to need the emergency department at Ridge Meadows Hospital due to shortness of breath. The care I received was excellent. The staff that looked after me were caring and calming, which made me feel less stressed. Special kudos to Dr. Kim, Nurse Ryan, Amber, Prafu, Eric and Dr. Harry. Thank you to the wonderful staff for being there when needed.
---
I recently had cataract surgery and I wanted to take a moment to express my sincere gratitude for the excellent care I received from your team, especially from Nurse Violet. Violet went above and beyond to make me feel at ease. She answered all of my questions and concerns with patience and kindness. She is truly an exceptional nurse and an asset to your team. Thank you.
---
I would like to thank Dr. Bartel and Dr. Wong who provided excellent care for my ill child. Dr. Wong reassured me that everything was okay while my child was in surgery. He was very calm and sympathetic. I would also like to acknowledge the nurses on the pediatric floor who were kind and helpful.
---
For Royal Columbian Hospital
I would like to convey my thanks to all the staff in the emergency room, the Cardiology Department and the Food Service Department. The staff in these departments are fantastic people. Thank you for your commitment to care.
---
For Surrey Memorial Hospital
I'd like to thank Dr. Gill, Dr. Mui, Nurse Mona and many other nurses in the emergency room who helped save my life. Thanks to the quick actions of the staff, I received fluid, medication and blood quickly, stabilizing me enough for surgery. I am now back home with my family and forever grateful to you all. I will never forget my experience.
---
We visited the pediatric emergency department as our 18-month-old son had a bad case of croup. The staff were amazing and incredibly calming during a nerve-wracking situation. We are so grateful for their kindness and professionalism.
---
I was transported by ambulance to Surrey Memorial Hospital after experiencing a heart attack. I watched the emergency room staff helping people with medicine, providing a warm blanket and helping patients who needed assistance to use the washroom. I was impressed by their commitment and professionalism. I'm extremely pleased with the top-notch care I received. Thank you for being so compassionate.