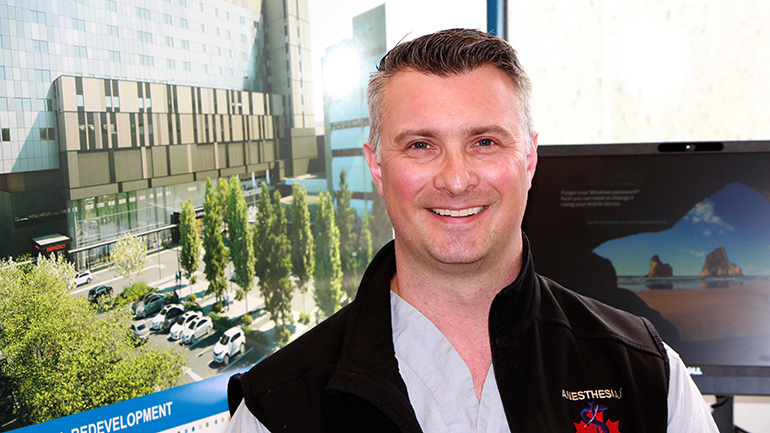 The new Jim Pattison Acute Care Tower's second floor will integrate multiple interventional services to foster collaboration and improve patient care.
Royal Columbian Hospital's new interventional platform will be a central location where patients will be able to receive all of the interventions they may need, including diagnostic tests, surgery and other procedures. The interventional floor will see operating rooms, cardiac catheterization labs, procedure rooms and interventional radiology suites co-located in an integrated space rather than located throughout the hospital.
When the new Jim Pattison Acute Care Tower opens in 2025, the entire second floor will connect to the existing hospital to create a 'superfloor' for interventional services. The floor will be one of the largest of its kind in Canada, taking up more than 8,500 square metres, a space larger than a soccer field.
"Patients who may need multiple procedures or care by multiple groups are going to be in a better position to receive that in a single environment where we can all communicate and work together," says Dr. Kenneth Ryan, an anesthesiologist at Royal Columbian and physician lead for the interventional platform. "The goal is to bring the best in health care to this hospital so that we can provide excellent care for the people in our community."
The platform will have an interventional zone with five interventional radiology suites and three cardiac catheterization labs. The surgical zone will have three cardiac operating rooms, 11 general operating rooms, including one dedicated to robotic surgery, and three hybrid operating rooms which are operating rooms equipped with advanced medical imaging technology for specialized neurosurgical, vascular, cardiac and other techniques.
With two additional operating rooms (ORs) on the obstetrical floor, the total number of ORs at the hospital will increase from 12 to 19. The interventional floor will also have beds for pre/post-op care and a Post Anesthesia Care Unit.
The floor's design will increase efficiency and help to minimize the amount of time it takes for patients to get the care they need. For example, two coronary catheterization labs will be located beside the stroke lab. This will allow patients coming to the hospital with an acute stroke or heart attack to move quickly from the emergency department to an interventional suite.
The platform will bring together multidisciplinary health care providers, including surgeons, radiologists, cardiologists, nurses, support staff and administrators. Dr. Ryan sees this as an opportunity to foster innovation and support.
"As a work environment, it's going to be a great place," he says. "There's going to be a real buzz to it once everything is up and running. We're bringing in the best equipment, the best technology, and when you bring those things, the best and brightest people are going to follow."
Interested in working at Royal Columbian Hospital? Visit our careers site.