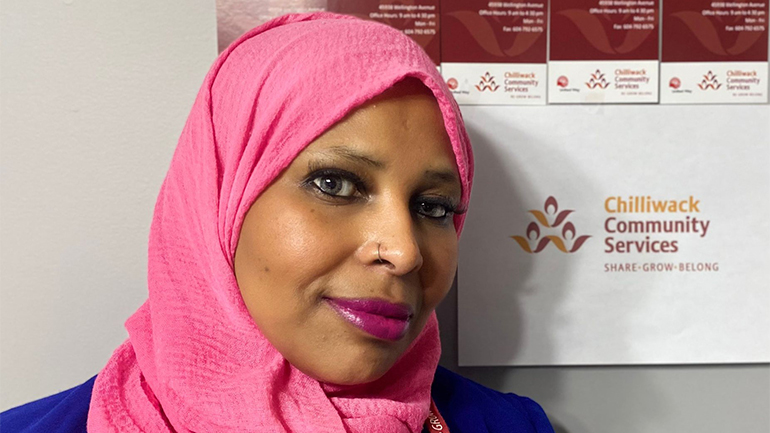 Friendly phone calls, transportation assistance and social programs are just a few of the ways seniors' community connectors help older adults keep healthy and well across Fraser Health.
(Photo) Leila Reshid, seniors' community connector, Chilliwack Community Services
Emilie is seventy-one years old and lives alone in her home in Chilliwack. Every week, she receives a call from a team member of the Friendly Caller Program, who checks in to chat and see how she is doing.
"When you live alone, that kind of thing is very important," Emilie says. "When I talk to her, I feel special because I know that she is interested in me."
Five years ago, after her husband and mother died, she found herself increasingly isolated, with little interaction outside of her home.
"I felt very lost, after they both passed away," she says. "I had been their caregiver – and had been married to my husband for 45 years. I went from being an active woman my whole life to not wanting to see anyone."
A referral to Leila Reshid, her local seniors' community connector, through the social prescribing program at Chilliwack Community Services, linked Emilie to the Friendly Caller Program. She was also connected to local exercise and social programs and no-cost hearing and vision testing services.
"The encouragement has just been wonderful," Emilie explains. "Because of Leila, I'm now going to exercise classes for balance and strength."
Through the program, she also receives regular transportation assistance and acquired a donated iPad when her computer broke.
"The technology thing is big," explains Emilie. "If you don't use it, you lose it. And whenever I want to go to the seniors' café and the weather is bad, they arrange for someone to pick me up. It makes a huge difference."
For Leila, the groundswell of support she has received for her work – and the social prescribing program – reflects the Chilliwack community.
"What I love most is my community's generosity and the willingness of people to work together," she says.
When she first started in her role, most of her referrals came from the local Division of Family Practice. By partnering with Fraser Health's Home and Community Care and Community Action and Resources Empowering Seniors (CARES), the referrals now come from a wide range of teams and programs
"They got the word going and now people know how to reach me. They really appreciate the work that I do."
This includes helping older adults like Emilie get the crucial non-medical supports and resources that they need to live and thrive independently in their homes.
"Supports like financial assistance, transportation and housing are in huge demand," she says. "We do whatever we can to make sure that clients aren't having their lights turned off and that they can get to where they need to go."
It's often after her clients have their most critical needs met that they are open to exploring other programs available through social prescribing, like social outings and seniors' meet-ups.
"The main idea of social prescribing is just that – it's social," says Leila. "When we decrease isolation, we decrease the number of times that they go see their doctor or go to the Emergency Room for a non-medical issue. It's an amazing thing."
Emilie has a renewed zest for life because of the Seniors' Community Connector Program.
"I feel so much healthier. I have changed so much. I've got that twinge in my heart – the excitement that I haven't had since my mum and husband died."
Social prescribing is a partnership between Fraser Health, United Way and our Partners in Care across our region, who work together to find new solutions to keep people healthy and well in our communities. Learn more about social prescribing.