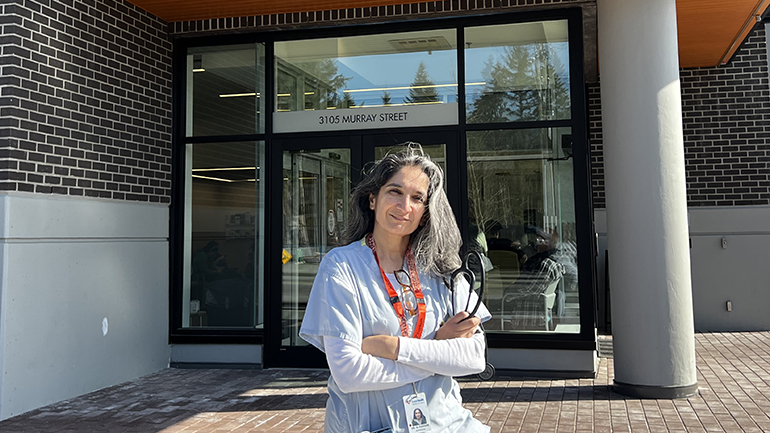 Dr. Nimeera Kassam shares what brings her joy and meaning as medical director at the Port Moody Urgent and Primary Care Centre.
Dr. Nimeera Kassam's medical practice has always hinged on two things: joy and meaning.
"Over the thirty odd years that I've been in medicine, it's never been lost on me that I am dealing with human beings," she says. "Whether it's the people that I'm working with, or the people whom I am helping – they are what bring true joy to my work."
The meaning she derives from her work as medical director and practicing physician at the Port Moody Urgent and Primary Care Centre (UPCC) is directly connected to her joy, and is also a reflection of the individuals who make up her team and the patients for whom they provide care.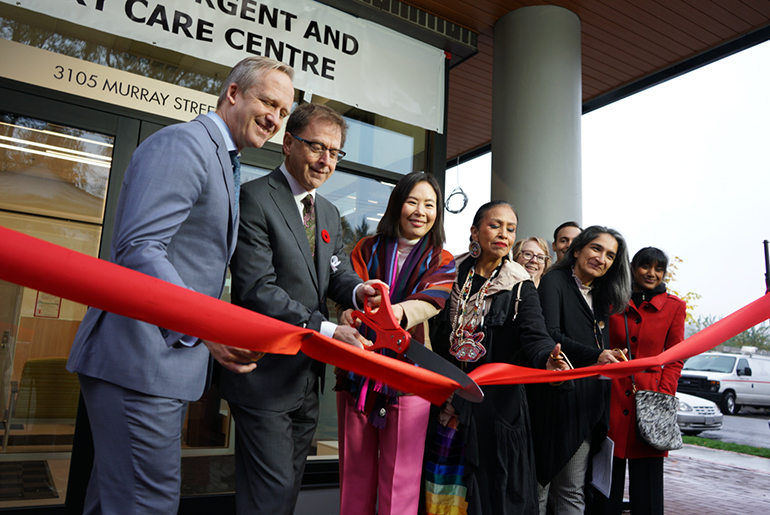 Photo (left to right): Rick Glumac, MLA Port Moddy-Coquitlam; Adrian Dix, Minister of Health; Dr. Victoria Lee, President and CEO, Fraser Health, Shuel-let-qua Q:olosoet (Cynthia Jim), Board Member, Fraser Health; Dr. Nimeera Kassam; Ramya Hosak, Board Member, Fraser Health.
"It's these many, many impactful moments of connection," she says. "They happen over the course of one visit, and during years of working together. In either instance it's an intimate, beautiful thing, and I don't ever take that for granted."
When asked if she had always had her sights on a career in family medicine, she laughs.
"After graduating from UBC's School of Medicine, I moved to Alberta for my family practice residency. What was supposed to be a two-year stay ended up being ten," she says. "I just loved the variety of opportunities that family medicine afforded me."
During her decade in Alberta, she worked at family practice clinics and for the Edmonton Birth Control Clinic. She also taught medical students and residents and served as the medical director of Edmonton's Sexual Assault Response Team.
In 2003, she and her husband moved back to B.C. and for the 12 years following, she worked "as a part-time doctor and a full-time mom."
As her son grew older, her focus shifted back to her work, which now includes roles in primary care and long-term care, as well as in leading a panel of health care providers at the Port Moody UPCC.
She appreciates the unique role that the centre plays in the city and sees the direct impact its staff have on patients and community members every day.
"Our UPCC fills a special niche in the Port Moody area," she says. "We provide timely urgent and longitudinal care – both of which are much needed in this ever-growing community. Our after-hours and weekend care also seek to help decrease the burden on the Emergency Department, as more patients are able to access care for their timely, non-emergent health needs."
She also describes how she and her team provide intentional, comprehensive, patient-centred care.
"Our focus is always to address the holistic needs of anyone who walks through our doors – body, mind, heart and spirit. We are also working to grow our partnerships with community primary-care providers, hospitals, mental health and substance use services and others, in the hopes of fostering hope, health and healing for our patients."
To her, it's what puts the 'person' in person-centred care.
"The care we have for other people – it's what part of being human is," she says. "We're here to serve each other."
Outside of her work at the UPCC, Nimeera is a board member of the Fraser Northwest Division of Family Practice where she sits on its Primary Care Network (PCN) Steering Committee and the Patient Medical Home Advisory Committee.

May 1 is National Physicians Day - declared by the Canadian Medical Association to recognize the Canadian medical profession and its contributions to the country's history and national identity. This date was chosen to honour the birthday of Dr. Emily Stowe, the first woman to practice medicine in Canada and a founder of Canada's women's movement.