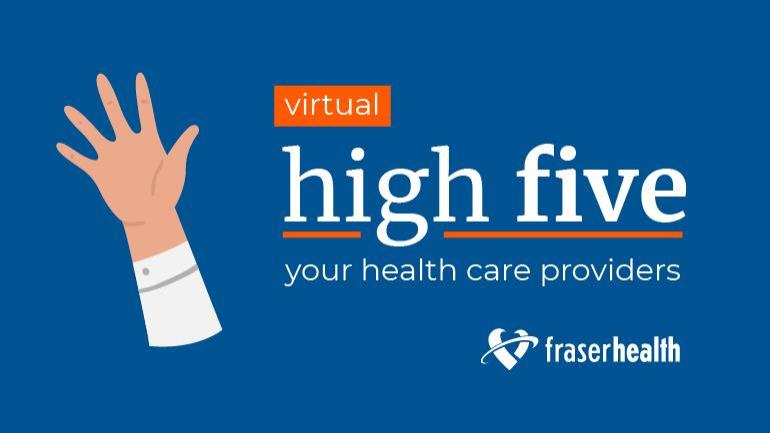 This week's high fives go to our amazing people at Abbotsford Regional Hospital, Burnaby Hospital, Delta Hospital, Eagle Ridge Hospital, Langley Memorial Hospital, Royal Columbian Hospital, Surrey Health Protections Office and Surrey Memorial Hospital.
Want to send a high five to your health care provider or Fraser Health team member? Leave a comment below or send your thanks using our online submission form. Read more kudos at fraserhealth.ca/highfive.
---
For Abbotsford Regional Hospital
Thank you to the team in General Daycare. What a professional and friendly group of staff. I felt at ease and taken care of, confident in the care I received before and after my procedure. Keep it up, you are all gems.
---
For Burnaby Hospital
Thank you to all the staff at Community Outpatient Services for the continuous care you provide during my weekly treatments.
---
I want to thank Dr. Gracias for his reliable care, year after year. The treatment and care he has provided has proven to keep me living a healthy lifestyle with no pain. The Chronic Pain Management program is imperative not only for myself but for all of his patients.
---
For Delta Hospital
Just wanted to say a big thank you for the excellent care I received at Delta Hospital Surgical Daycare. Everyone made me feel so calm and at ease. What an amazing team, thank you again.
---
For Eagle Ridge Hospital
I would like to thank Nurse Heather for her warm and professional care during my stay at Eagle Ridge Hospital. She gave me confidence and peace of mind. She treats patients like family. A huge thank you.
---
For Langley Memorial Hospital
I was admitted to the Emergency Department at Langley Hospital with a dislocated right hip. I was very impressed with the professionalism and compassion of the team. Thank you to Dr. K., Dr. Lui, Heather, Melissa and Leza. Accolades to the team.
---
For Royal Columbian Hospital
I have so many wonderful things to say about all the staff I dealt with at Royal Columbian Hospital. I only have immense gratitude for the care I've received. From my visit to the Emergency Department, to my MRI, to the pre-admin phone call, to the day of my neurosurgery. It definitely helped me keep a positive mindset, stay strong and feel like I was in excellent hands throughout my journey. Thank you so much.
---
Thank you Registered Nurse Kevin for providing amazing care.
---
For Surrey Health Protections Office
We would like to take this time to thank you for everything you have done for the Punjabi and Sikh community over the years, and especially with this year's Vaisakhi celebration. The planning must have taken countless hours and we are grateful for the effort you put in. Please take this as a heartfelt thank you on behalf of each and every one of the 500,000+ people in attendance.
---
For Surrey Memorial Hospital
My son was seen at the Surrey Memorial Pediatrics Emergency Department when he came down with norovirus. He was extremely sick and wasn't able to stay awake. It was truly one of the scariest moments as a parent. We were promptly seen and triaged, the clerk, nurses, doctors were all patient, kind and informative. My son is autistic and all of the staff were caring and worked with him at his own pace. Thank you everyone.
---