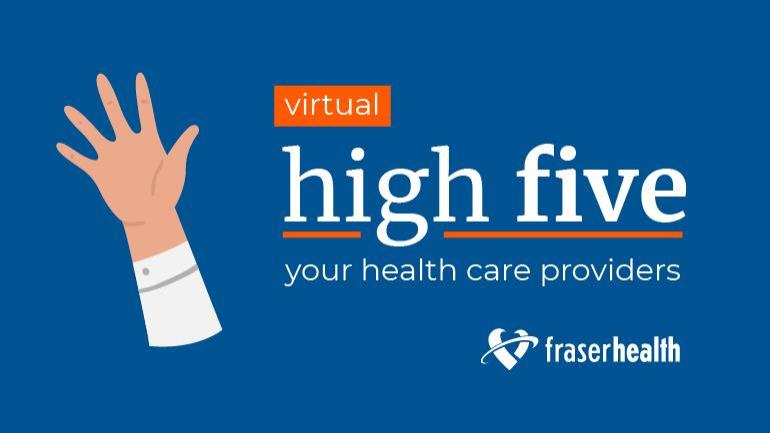 This week's high fives go to our amazing people at Burnaby Hospital, Langley Memorial Hospital, Ridge Meadows Hospital, Ridge Meadows Urgent and Primary Care Centre and Royal Columbian Hospital.
Want to send a high five to your health care provider or Fraser Health team member? Leave a comment below or send your thanks using our online submission form. Read more kudos at fraserhealth.ca/highfive.
---
For Burnaby Hospital
A big thank you to Anne in Surgery Recovery at Burnaby Hospital. Her beautiful calm demeanour was so pleasant after surgery. I wish I could have stayed longer to chat with her more. It was truly a pleasure meeting you Anne.
---
I had my second knee replacement surgery by Dr. Kostamo and staff. Again, I experienced nothing but exceptional care from the team. Dr. Kostamo took care of my needs and health concerns which contributed to another successful surgery. Thank you.
---
Thank you to the staff for the patience and understanding I experienced while in the hospital. A special thank you to Nurses Jordan, Li and Shanu who really took care of me. All the staff I encountered were really nice and these three were exceptional.
---
Thank you to the entire team for all your hard work.
---
For Langley Memorial Hospital
Every single person I dealt with in the Emergency Department was friendly, courteous, helpful and professional. I witnessed them provide excellent care even under difficult conditions. Thank you to all the staff.
---
For Ridge Meadows Hospital
After a sudden back injury, I ended up spending several days in the hospital. During my stay, everyone was so friendly and patient with me while I struggled with limited mobility. Thank you so much to the nurse that braided my hair. It really helped my mental health and made me feel human again.
---
For Ridge Meadows Urgent and Primary Care Centre (UPCC)
A shout-out to Dr. Dhillon and the registered nurses at the Ridge Meadows UPCC. I needed stitches for an injury and they were all so professional and friendly. An amazing team – thank you.
---
For Royal Columbian Hospital
We are so grateful for the exceptional care we received during our stay. I would like to thank the staff in Labour and Delivery. A special thank you to Nurses Natelie, Hayley and Sarah as well as Dr. Low and Dr. Beauchamp. Finally, thank you, Angelica, for your gentle care.
---
I want to thank Cruz in the Emergency Department. In a very stressful situation where my six-month-old baby was having an anaphylactic reaction, Cruz went above and beyond by ensuring my baby and I were comfortable. She checked in on both of us in the trauma bay and even later when we transferred to the pediatric area. Thank you, Cruz, you are a blessing.
---
I would like you to know how grateful I am for the competent, confident care that I received when I had a colonoscopy procedure. From the registration desk to the time I went home, it was a positive experience. You are all appreciated – keep up the good work.
---