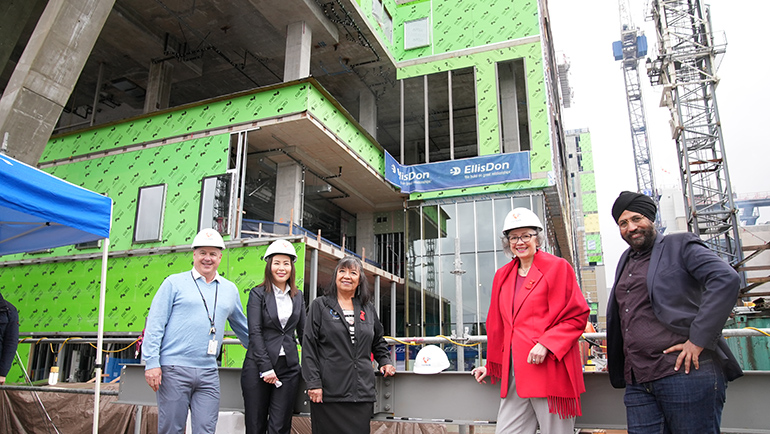 People in B.C. are one step closer to accessing expanded health care services at Royal Columbian Hospital as the project reaches an important construction milestone.
"Royal Columbian Hospital means a lot to people in New Westminster and the Lower Mainland – it's where we welcome new generations, receive care when we need it the most, and where we have the hardest moments with our loved ones in the end," said Jennifer Whiteside, Minister of Mental Health and Addictions and MLA for New Westminster. "It's great to see the progress that has been made to create a new acute care tower that will increase the hospital's capacity and provide a state-of-the-art working environment."
Completion of the top floor means construction will now focus on building the new rooftop helipad and patient care areas. The tower will add more beds, introduce new equipment and technology, increase patient privacy and enhance healing with natural light and green spaces.
"Today, we mark an important milestone of the new 10-storey Jim Pattison Acute Care Tower of the Royal Columbian Hospital redevelopment project," said Adrian Dix, Minister of Health. "The project will support our ongoing work to strengthen health care in British Columbia and give people in the region greater access to the services they need in a modern hospital for decades to come."
The acute care tower is estimated to be complete in 2025.
"As we reach this significant construction milestone, we are reminded of the immense impact that the Royal Columbian Hospital redevelopment project will have on our communities," said Dr. Victoria Lee, president and CEO, Fraser Health. "We are building more than just a state-of-the-art facility – we are creating a space where our dedicated staff and medical professionals can provide compassionate care to thousands more patients each year. This new facility has been thoughtfully designed with our patients and families in mind, incorporating the latest innovative technology and best practices to ensure that we can meet their needs now and in the future. As we continue to work towards completion in 2025, we are proud to be contributing to the health and well-being of our communities."
The hospital redevelopment is a multi-year project that will take place in three phases. Phase one involved the opening of a new 75-bed Mental Health and Substance Use Wellness Centre in 2020.
Phase two includes the new acute care tower, which will have beds for intensive care, cardiac intensive care, medical, maternity and surgical patients. The new, larger emergency department will have a medical imaging unit that will reduce travel times for procedures. There will also be new operating rooms and radiology suites that will connect with the existing Health Care Centre to create an interventional "super floor." Phase two will also provide more maternity beds and maternity operating rooms. In addition, the tower will also have a two-level underground parkade
"Today's construction milestone for the new patient care tower at Royal Columbian Hospital is a significant step in ensuring better access to care for people in Queensborough and New Westminster," said Aman Singh, MLA for Richmond-Queensborough. "I'm proud to support this important investment in our health care system and look forward to seeing the positive impact it will have for our community for years to come."
Phase three will upgrade areas in the existing Health Care Centre and Columbia Tower.
Total funding for the project is $1.49 billion, provided by the Province, Fraser Health and the Royal Columbian Hospital Foundation.
"We are incredibly grateful for the support Royal Columbian Hospital Foundation's donors have provided in fulfilling our foundation's mission to inspire giving and fund excellence in health care," said Jeff Norris, president and CEO, Royal Columbian Hospital Foundation. "They are making hope, healing and a brighter future possible for countless patients and families who will benefit from the state-of-the-art care offered at the Jim Pattison Acute Care Tower."
Royal Columbian Hospital provides specialized services for people throughout the province. It is the only hospital in B.C. with trauma, cardiac care, neurosurgery, high-risk obstetrics, neonatal intensive care and acute mental health care all at one site.